KAVACA CLEAR BRA PAINT PROTECTION FILM ASPEN
KAVACA Paint Protection Film Elite Dealer in Aspen, Colorado
Ceramic Pro Aspen Elite Dealer is an installer of KAVACA Paint Protection Films (PPF). KAVACA PPF is the pinnacle of technologically advanced paint protection films. We offer instant-healing solutions as well as matte finish options. One of our favorite film offerings is KAVACA Ceramic Coated PPF. This film comes pre-coated with Ceramic Pro right from the factory. This gives you all the benefits of coating the actual paint protection film with Ceramic Pro, without the cost of that extra service locally.
Driving through The Rocky Mountains on I-70 introduces multiple opportunities for damaging high-impact areas of any vehicle. Chunks of hard ice falling off the side of cliffs, from the rear of the vehicle ahead of you, plus the sand and small rocks dumped on roads during snowstorms can quickly pit and damage the hood, bumper, and side-view mirrors. Many Colorado vehicle owners install paint protection film in Aspen to keep their vehicles protected against road debris to avoid this problem.
Ceramic Pro Elite Aspen is your go-to source for professional-grade paint protection film or PPF. Our corporate trained technicians choose Ceramic Pro PPF or clear bra paint protection materials, as they represent the ultimate in automotive film technology – that is also used for industrial equipment – such as Gondolas at the Vail Ski Resort.
Whether you're looking for the ultimate protection for your entire vehicle or combining a full front PPF with Ceramic Pro 9H coatings, the team at Ceramic Pro Aspen offers a customized solution. If you'd like to learn more about paint protection film installation in Aspen, Colorado, click the button below to request a FREE QUOTE.
Address
5394 CR-154 Glenwood Springs Unit 10
Aspen, CO 80601
Phone
970-930-5535
Web
voodoo-vinyl.com
Hours
Monday – Friday 8:00 AM – 5:00 PM

What is Paint Protection Film in Aspen Colorado?
There are several ways to protect your vehicle from exposure to the harsh winter elements of mountain living. Professional ceramic coatings like Ceramic Pro 9H are engineered to protect the vehicle's clear coat, glass, and interior materials from exposure to UV rays, ice, snow, and acid rain; it's not great at deflecting rocks and road debris. This is the job and primary attribute of paint protection film.
You may have heard of clear bra kits or PPF in the past. If you live in Montrose, Steamboat Springs, Glenwood Springs, Vail, Clifton, and surrounding mountain communities off I-70, you likely have a friend who has it installed on the front of their daily driver. The paint protection film is a urethane film, often transparent, installed on the exterior components of vehicles and equipment.
It is common for Aspen car, truck, SUV, and commercial RV owners to have a professional paint protection film installer in Aspen apply to their hoods, front bumper, fog lights, headlights, fenders, and other areas exposed to road debris. It is not installed on glass for street-legal vehicles for safety reasons.
PPF is perfect for truck owners looking to keep the front end of their Dodge Ram protected from rock chips – or applied to your Tesla Model S Plaid – combined with Ceramic Pro 9H coatings on other exposed parts of their vehicle. Paint protection film is also great for your Infiniti or Nissan Rogue that you tow behind your RV.
When combined with high-quality Ceramic Pro 9H coatings on other exterior components – protective film delivers a superior level of protection that keeps your vehicle's paint in near-mint condition for years. Both ceramic coatings and paint protection film installed by Ceramic Pro Elite Aspen are backed by a Carfax verified warranty.
Ceramic Pro Elite Aspen offers you two PPF styles: our revolutionary KAVACA Ceramic Coated PPF to the ultra-stylistic Matte PPF. We also provide ceramic window tinting services – so you can protect your entire vehicle in one stop. Look below at some of the top features of our paint protection film options offered at Ceramic Pro Aspen.
There is no better protection for automotive paint than paint protection film. We can install a basic clear bra, where we protect the very front of the car, or we can customize the coverage options. Finally, we offer the option of protecting the entire car. This is great for luxury or exotic vehicles where maintaining the perfection of the original finish is of utmost importance. KAVACA Paint Protection Film is backed by a 12-Year Warranty. We lead the industry and quality and stand behind our product.
KAVACA PAINT PROTECTION FILM PRODUCTS
KAVACA Matte Finish Paint Protection Film
KAVACA Matte Finish Paint Protection Film is the film to choose if you are looking for that modern satin paint look without the drawbacks that come with matte paint. KAVACA Matte Finish PPF protects the original finish of your vehicle and allows you to go for that matte look even if your original paint is gloss. The film can of course also be used over matte paint. Matte Finish PPF heals from minor scratches with applied heat, such as regular sunlight.
Learn More

KAVACA Ceramic Coated Paint Protection Film
KAVACA Ceramic-Coated Paint Protection Film is the film of choice if you would like the benefits of coating your film with Ceramic Pro without having to go through that extra cost and installation time. The film is coated with Ceramic Pro PPF and Vinyl formula during production. This means that as soon as the film is on your car you can benefit from all the hydrophobic qualities of a Ceramic Pro coating in a single installation step.
Learn More

PAINT PROTECTION FILM INSTALLATION SERVICES

KAVACA Paint Protection Films
Ceramic Pro Elite Dealer San Diego installs KAVACA Advanced Window Films. KAVACA Window Films offer supreme IR filtering at any tint percentage level. The available lineup is vast, including many tint percentages, filtering levels and tint tones.
THE CERAMIC PRO ELITE DEALER EXPERIENCE – EXPERT PPF INSTALLATION IN ASPEN COLORADO
Ceramic Pro Elite Aspen delivers the ultimate detailing and PPF installation experience. Ceramic Pro Americas developed our Elite Dealer program to ensure vehicle owners in Aspen could have a single, opulent, and upscale location for all their protective and detailing needs. As an exclusive Ceramic Pro installer, our Aspen, Colorado Elite Dealer offers our complete line-up of ceramic coatings, PPF, and ceramic window film.
Additionally, Ceramic Pro Elite Aspen provides aftercare and maintenance services – ensuring your vehicle remains in optimal shape – even when exposed to hostile weather conditions in the Colorado mountains. We also carry a complete line of Ceramic Pro America's recommended aftercare detailing products – powered by Americana Global.
Americana Global recently formulated a Vinyl & PPF shampoo explicitly made to clean our Matte and Ceramic Coated PPF – without leaving any residue. We also offer a Rinseless wash, which is eco-friendly and allows you to wash your vehicle in your garage – even in the coldest weather conditions.
If you have questions about paint protection film in Aspen installation for your vehicle or would like to request a free quote – click the button below. We look forward to serving you.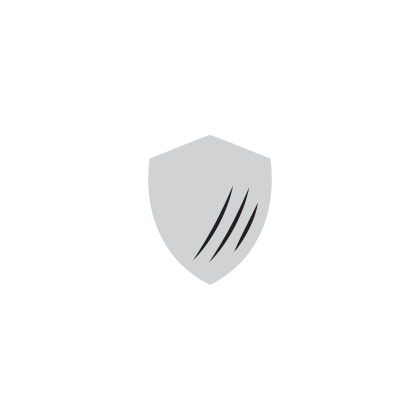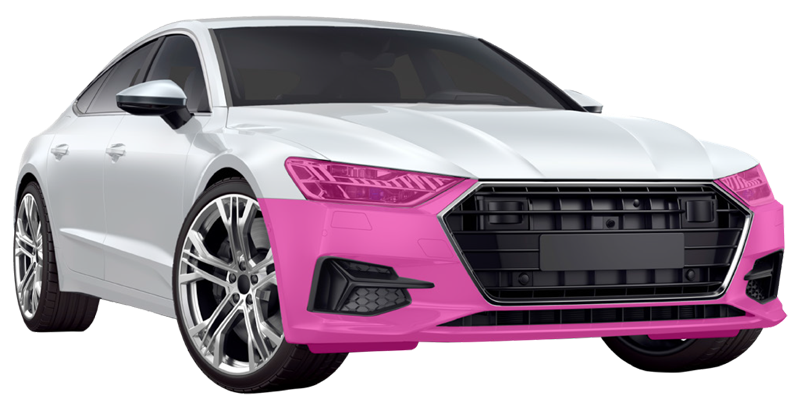 Full Front Bumper
Headlights
Fog lights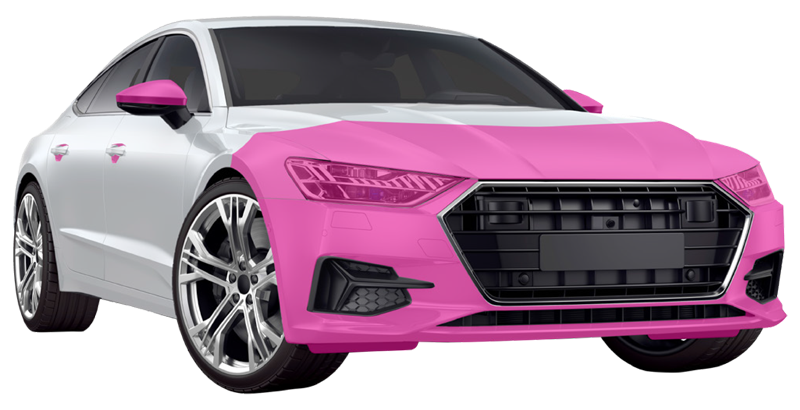 Full Front Bumper
Headlights
1/3 of the Hood and Fenders
Front Side Mirrors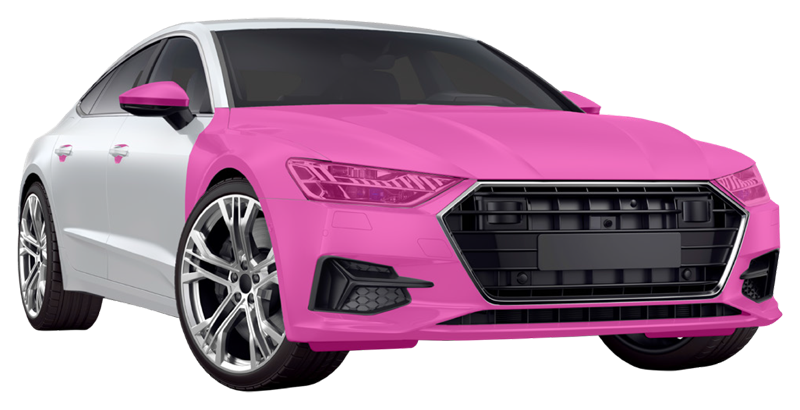 Full Front Bumper
Full Hood
Full fenders
Front Side Mirrors
Headlights
Fog lights
Door Cups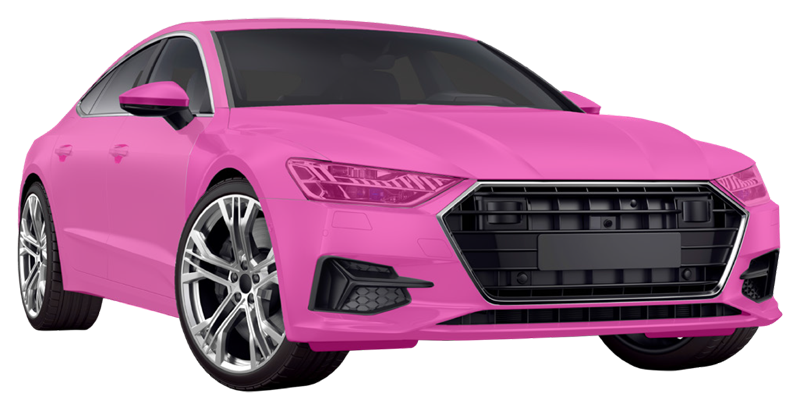 Entire car – all painted surfaces of the vehicle and headlights.
*Available package options vary by installer. Custom coverage options also available.
ELITE LEVEL PPF INSTALLATION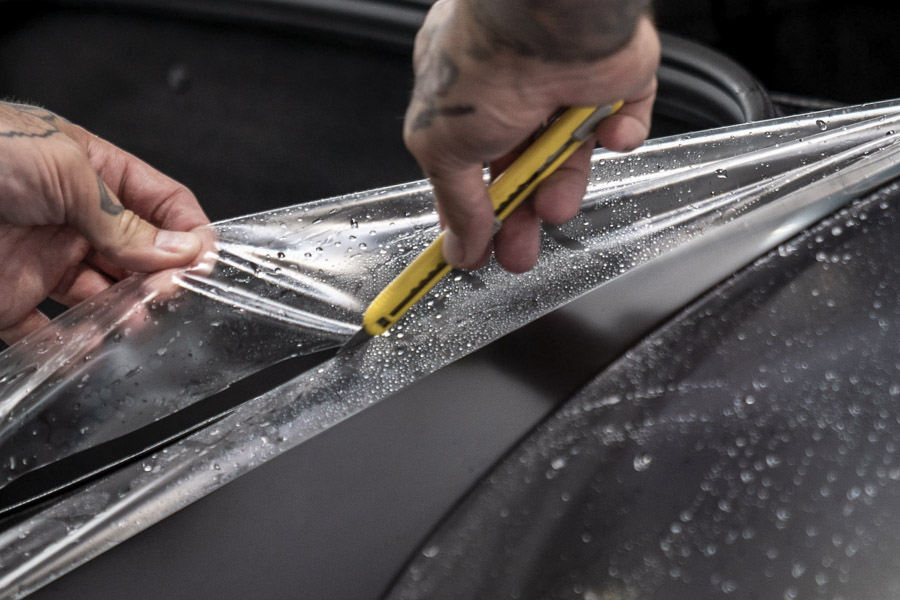 Ceramic Pro Paint Protection Film in Aspen Colorado
Ceramic Pro KAVACA Paint Protection Film is the most advanced self-healing PPF. We offer various types, including our revolutionary Ceramic Coated Paint Protection Film – which blends nanoceramic technology with the protective qualities of PPF. We also offer a Matte Finish PPF to transform your gloss paint job to a satin finish. Whether you're looking for a clear bra installation or a complete vehicle PPF installation in Aspen, our Ceramic Pro Elite Dealer can take care of you.
Please complete the form below. A Ceramic Pro Elite Dealer representative will contact you with a free quote for your vehicle.

KAVACA Regenerating Paint Protection Film in Aspen, Colorado.
Ceramic Pro KAVACA Regenerating Paint Protection Film is the most advanced self-healing PPF available today. We offer various types, including Instant-Healing clear bra film which requires no heat to self-heal. Additionally, we also carry Matte Finish PPF and Ceramic-Coated PPF.