CERAMIC PRO COATINGS KNOXVILLE
Ceramic Pro Coatings Elite Dealer in Knoxville, Tennessee.
If you're smart and have Ceramic Pro Elite Knoxville put a professional ceramic coating on your daily drivers, commercial vehicles, boats, or planes, your investment will last for many years.
Ceramic Pro Elite Knoxville is an exclusive Ceramic Pro Next Generation ION coatings dealer. Our flagship Ceramic Pro 9H nano coatings provide a semi-permanent and exceptionally durable layer of protection that increases the depth, shine, and gloss of the materials they have bonded.
UV-resistant ceramic coatings can fit a wide range of uses, such as paint, automotive glass, wheels and calipers, vinyl and PPF, textiles, plastics, leather, and commercial equipment (raw metals). We are proud to serve those living in Knoxville, Maryville, Sevierville, Lenoir City, Loudon, Oak Ridge, and other cities throughout Knox County.
Click the button below to get a quote for the best protection for any vehicle, including a Carfax-verified warranty and professional installation by detailers.

What is a Ceramic Coating?
Ceramic Pro Elite Knoxville is your number-one destination to protect all your vehicles, including but not limited to: cars, trucks, SUVs, boats, watercraft, and industrial equipment in Warren County.
Our reliable Ceramic Pro Elite Dealer in Knoxville provides nanocoating's for a plethora of materials such as paint & Gelcoat, glass & plastic trim, wheels & calipers, and interior leather & textiles to list a few.
Ceramic coatings for automobiles are something you're probably quite familiar with. Some ceramic coating projects you can do yourself are easy and have great hydrophobic properties, which make it less likely that dirt, water, and other things will stick. However, these coatings need to provide real defensive qualities.
Professional-grade ceramic coatings are the result of nanotechnology, which penetrates any porous material's minuscule crevices; within seconds, this coating hardens and creates a resilient layer that is both super smooth and long-lasting.
UVA and UVB blockers are chemicals in a ceramic coating that protect your car's clear coat, interior dashboard, leather seats, and exterior plastic trims from damage caused by intense solar radiation. In addition, road salt or mag chloride sprayed on the roads during the winter will not penetrate the coated surface.
Ceramic Pro coatings are one-of-a-kind since they have been designed for surfaces or materials. Our chemists have developed ceramic coverings for interiors (leather, polymers, vinyl, and textiles), boats (Gelcoat and fiberglass), vinyl wraps, paint protection film, and raw metal or painted surfaces.
Take some time to review a few of our most popular Ceramic Pro 9H coating packages posted below. Click the buttons to request a free quote to protect your car's exterior and interior.
CERAMIC PRO NANO-CERAMIC COATING PRODUCTS
CERAMIC PRO AUTOMOTIVE PACKAGES
GOLD PACKAGE
Lifetime Warranty
The Gold Package consists of 4 layers of Ceramic Pro 9H applied to the vehicle's paint, providing permanent protection with a lifetime warranty. An additional layer of protection is added to exposed areas including windshield and wheels.
Includes
4 Layers of 9H
1 Layer of Top Coat
1 Layer of 9H on plastics
1 Layer of Wheel & Caliper on wheel faces
1 Layer of Glass on windshield
SILVER PACKAGE
5 Year Warranty
The Silver Package includes 1 layer of Ceramic Pro 9H applied over the vehicle's paint, providing protection from the elements and a 5 year warranty. An additional protective layer is added to other areas including windshield and wheels.
Includes
1 Layer of 9H
1 Layer of Top Coat
1 Layer of 9H on plastics
1 Layer of Wheel & Caliper on wheel faces
1 Layer of Glass on windshield
BRONZE PACKAGE
2 Year Warranty
The Bronze Package consists of 1 layer of Ceramic Pro Top Coat applied over the vehicle's paint. This coating protects against light scratching and provides a beautiful glossy finish with a 2 year warranty. An additional protective layer is added to other areas including windshield and wheels.
Includes
1 Layer of Top Coat
1 Layer of Top Coat on plastics and wheels
1 Layer of Top Coat on plastics
1 Layer of Glass on windshield

CERAMIC COATING INSTALLATION SERVICES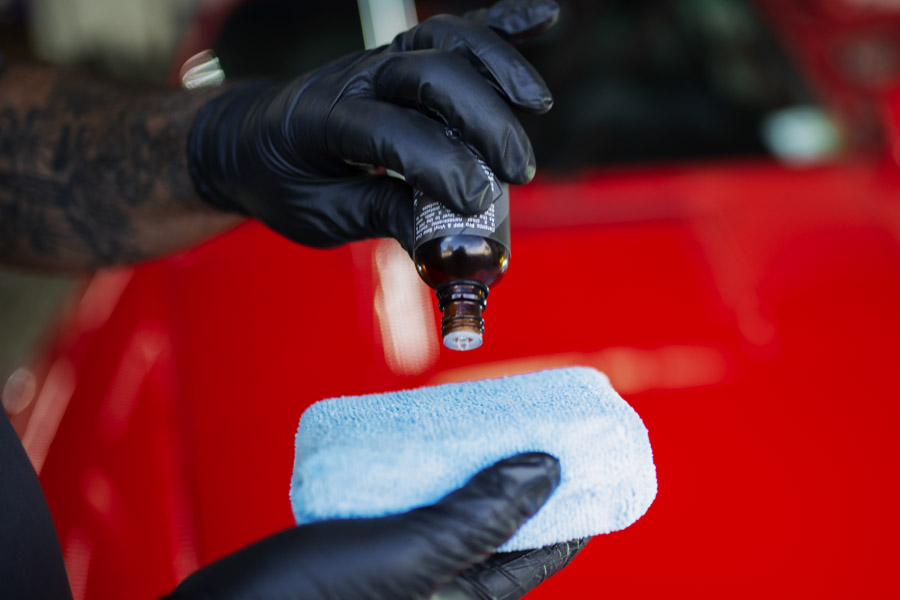 Ceramic Pro Ceramic Coatings
Ceramic Pro Elite Dealer Knoxville installs the entire lineup of Ceramic Pro coatings. This includes various coatings packages and formulas created for different surfaces. We have permanent coating solutions for both the exterior and interior of your vehicle.
THE CERAMIC PRO COATINGS ELITE DEALER EXPERIENCE IN KNOXVILLE, TENNESSEE
Ceramic Pro Elite Dealers deliver an upscale and opulent automotive detailing and protection experience. Only Ceramic Pro's coatings, PPF, and ceramic window film line-up are available through the Elite Dealers network. Each Elite Dealer has exceeded Ceramic Pro's higher standards for quality control, customer service, and professional installation.
Within the first three months of our Elite Dealer program, which started in 2022, more than 50 Ceramic Pro-certified installers joined.
Before you start any ceramic coating projects, we think you should have the paint fixed through paint correction. This method will remove bird droppings, tree sap, bug splatter, and swirl marks from the car's surface. This will get your car ready for the Ceramic Pro package, which makes the things it coats look better.
If you've just purchased a new Truck, Corvette, Challenger, Porsche, full-sized pickup, or other luxury vehicles, semi-truck, or have watercraft you want to protect for years, click the button below to request a FREE QUOTE from the auto detailing experts at Ceramic Pro Elite Knoxville.
ELITE LEVEL CERAMIC COATINGS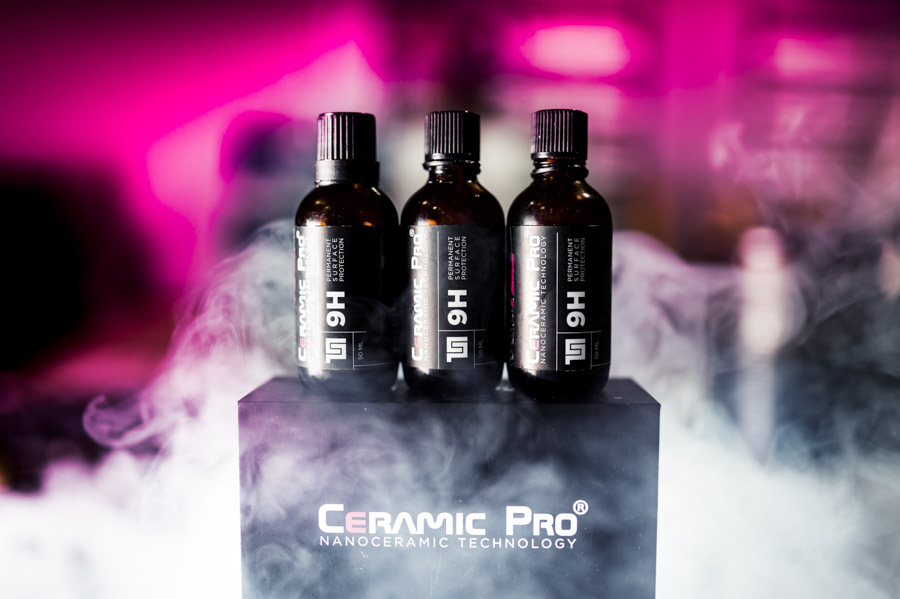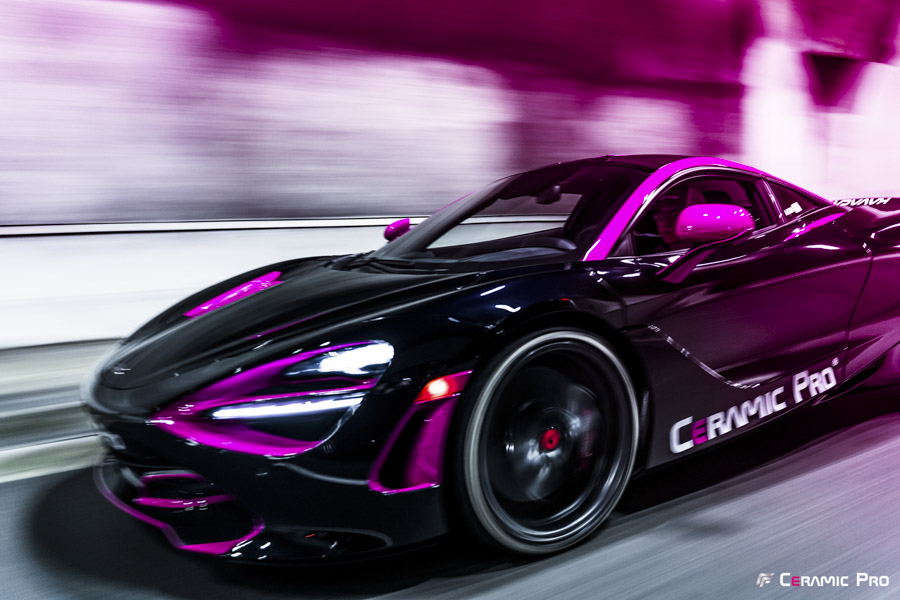 Please complete the form below. A Ceramic Pro Elite Dealer representative will contact you with a free quote for your vehicle.

Ceramic Pro Nano-Ceramic Coatings Installation in Knoxville, Tennessee
A Ceramic Pro Nano-Ceramic Coating is a permanent protective shield for your vehicle's paint which is substantially harder than your paint's clear coat. The coating separates your paint from exterior contaminants and its hydrophobic qualities repel water helping to keep the surface of your vehicle clean. We offer various Ceramic Pro formulas to coat paint, carbon fiber, textiles, leather, glass, plastics, and more.