CERAMIC PRO COATINGS MILWAUKEE
Ceramic Pro Coatings Elite Dealer in Milwaukee, Wisconsin.
It's hard to keep your vehicle, truck, or SUV clean in Milwaukee when you live there because of snowstorms, ice storms, pollen, tree sap, bug splatters and rain. However, many Tesla owners, BMW drivers, and other high-end or performance vehicles are looking for professional ceramic coatings in Milwaukee, installed by expert detailers as a fantastic method to preserve their automobiles and keep them cleaner for longer periods.
Ceramic Pro Milwaukee is a certified, factory-approved Elite Dealer of high-quality nano-ceramic coating installation, service, and maintenance. Ceramic Pro 9H, our top nanocoatings line, provides a semi-permanent and highly durable layer of protection that improves the depth, gloss, and sheen of the materials it has bonded. We offer multiple, customized packages, to provide you with the coverage and protection that makes sense for your individual situation.
Our high-quality service center applies ceramic coatings to cars, trucks, SUVs, boats, and watercraft. Customers in Waukesha, Oak Creek, Germantown, Summit Corners, Menomonee Falls, Thiensville, and other towns near Milwaukee utilize our facility and trust our team to complete jobs on time, within their budget, and always with a focus on quality.
Request a quote by clicking the button below if you're searching for exceptional protection for any car with outstanding hydrophobic properties and a Carfax Verified Warranty from experienced detailers.

What is a Ceramic Coating?
Ceramic coatings are available in a variety of formulations. A ceramic coating is a liquid polymer solution with a non-metallic component (ceramic) that hardens on the surface. There are two types of coatings. Spray coatings (those advertised on television) survive for a few months, while professional-grade coatings may endure a lifetime.
Although these spray-on paint sealants have some of the features of a coating, they don't provide adequate UV protection for automobiles. They also lack durability when exposed to heat or humidity.
Ceramic Pro coatings are hand-applied and utilize nanotechnology to penetrate tiny holes in porous materials. Ceramic Pro's coatings are only applied in a controlled environment by expert detailers. Our coatings deliver a semi-permanent protective layer and an undetectable shield against oxidation from UV radiation, bird feces, tree resin, pollen, and other environmental pollutants. They also resist staining, graffiti, scuff marks, and more.
Ceramic Pro coatings are unique because we've formulated them for specific surfaces or materials. We have a ceramic coating for glass coating, ceramic coating for interior (such as leather, plastics, vinyl, and textiles), for boats (Gelcoat and fiberglass), automotive clear coats, and raw metal or painted surfaces.
Take some time to review a few of our most popular Ceramic Pro 9H coating packages posted below. Click the buttons to request a free quote to protect your car's exterior and interior.
CERAMIC PRO NANO-CERAMIC COATING PRODUCTS
CERAMIC PRO AUTOMOTIVE PACKAGES
GOLD PACKAGE
Lifetime Warranty
The Gold Package consists of 4 layers of Ceramic Pro 9H applied to the vehicle's paint, providing permanent protection with a lifetime warranty. An additional layer of protection is added to exposed areas including windshield and wheels.
Includes
4 Layers of 9H
1 Layer of Top Coat
1 Layer of 9H on plastics
1 Layer of Wheel & Caliper on wheel faces
1 Layer of Glass on windshield
SILVER PACKAGE
5 Year Warranty
The Silver Package includes 1 layer of Ceramic Pro 9H applied over the vehicle's paint, providing protection from the elements and a 5 year warranty. An additional protective layer is added to other areas including windshield and wheels.
Includes
1 Layer of 9H
1 Layer of Top Coat
1 Layer of 9H on plastics
1 Layer of Wheel & Caliper on wheel faces
1 Layer of Glass on windshield
BRONZE PACKAGE
2 Year Warranty
The Bronze Package consists of 1 layer of Ceramic Pro Top Coat applied over the vehicle's paint. This coating protects against light scratching and provides a beautiful glossy finish with a 2 year warranty. An additional protective layer is added to other areas including windshield and wheels.
Includes
1 Layer of Top Coat
1 Layer of Top Coat on plastics and wheels
1 Layer of Top Coat on plastics
1 Layer of Glass on windshield

CERAMIC COATING INSTALLATION SERVICES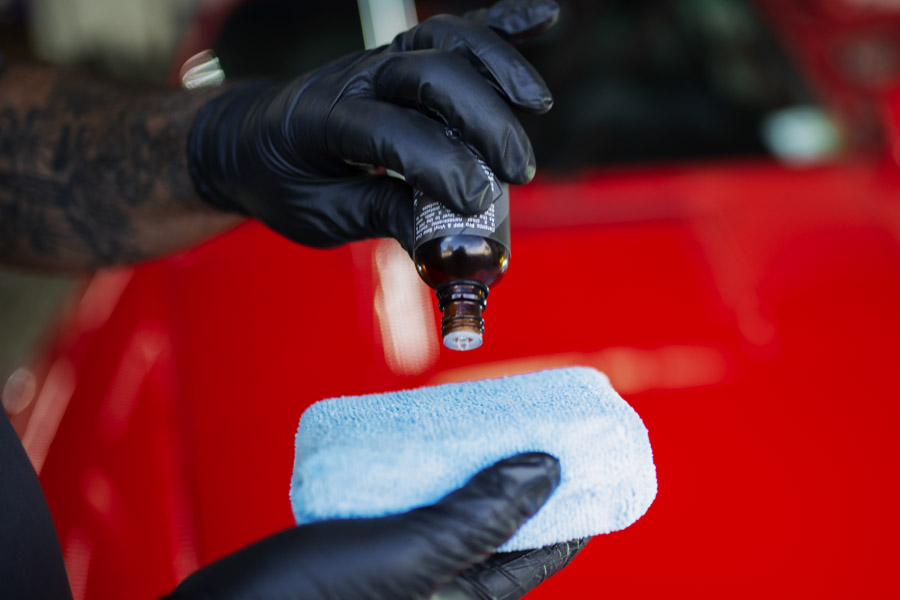 Ceramic Pro Ceramic Coatings
Ceramic Pro Elite Dealer Milwaukee installs the entire lineup of Ceramic Pro coatings. This includes various coatings packages and formulas created for different surfaces. We have permanent coating solutions for both the exterior and interior of your vehicle.
THE CERAMIC PRO COATINGS ELITE DEALER EXPERIENCE IN MILWAUKEE, WISCONSIN
The Ceramic Pro Elite Dealer program caters to you if you prefer the fine things in life. Ceramic Pro Elite Dealers offer residents of Milwaukee a one-stop shop for all their vehicle protection and detailing services. Each Elite Dealer has far exceeded Ceramic Pro's higher requirements for quality control, customer service, and installation.
Ceramic Pro offers Milwaukee business owners and residents a variety of protective solutions, including ceramic paint coats, paint protection film, window tinting, and Americana Global aftercare goods – developed specifically for Ceramic Pro's line-up.
Paint correction, that is, removing surface damage, may also be done at our Ceramic Pro shop in Milwaukee, Wisconsin. This will prepare your car for a Ceramic Pro paint treatment, improving the material's condition and increasing its durability.
After our professional detailers prepare the car, we may apply Ceramic Pro coatings, such as clear coats, windows, trim pieces, wheels, and headlights. We also provide seat and carpet coating solutions. It's a car detailing solution that is much better than sealants and can be installed on the entire vehicle.
Click the button below to get a FREE QUOTE from Ceramic Pro Milwaukee's car detailing experts if you've just purchased a new Tesla, Porsche, BMW, or other luxury vehicles, truck, or watercraft and want to preserve it for years.
ELITE LEVEL CERAMIC COATINGS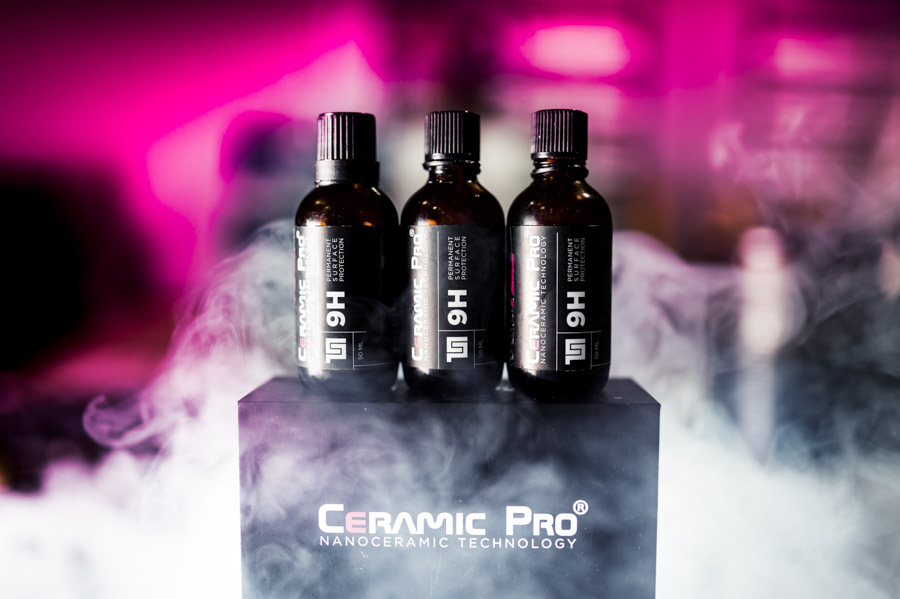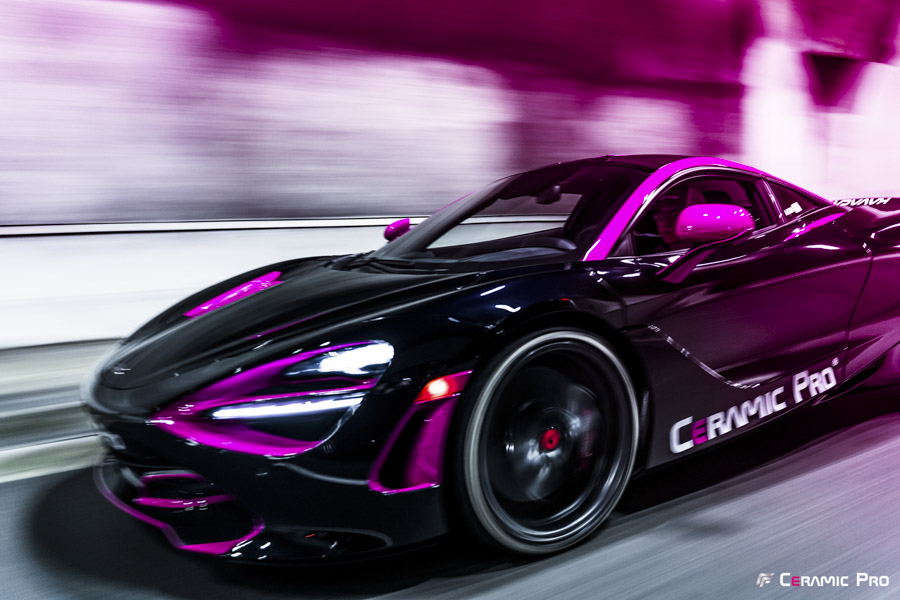 Please complete the form below. A Ceramic Pro Elite Dealer representative will contact you with a free quote for your vehicle.

Ceramic Pro Nano-Ceramic Coatings Installation in Milwaukee, Wisconsin
A Ceramic Pro Nano-Ceramic Coating is a permanent protective shield for your vehicle's paint which is substantially harder than your paint's clear coat. The coating separates your paint from exterior contaminants and its hydrophobic qualities repel water helping to keep the surface of your vehicle clean. We offer various Ceramic Pro formulas to coat paint, carbon fiber, textiles, leather, glass, plastics, and more.