CERAMIC PRO COATINGS PEORIA
Ceramic Pro Coatings Elite Dealer in Peoria, Illinois.
For several years, vehicle owners in Peoria Heights, East Peoria, Bloomington, Dunlap, Washington, and other Central Illinois cities have trusted Ceramic Pro nano coatings to protect their cars, trucks, SUVs, boats, off-road vehicles, and industrial equipment.
Here at Ceramic Pro Peoria, we take great pride in being an Elite Dealer. We specialize in providing nano ceramic coatings for a wide range of surfaces – from automotive paint and carbon fiber to bare metals, Gelcoat, glass, wheels & calipers and even interior leathers and textiles. Let us ensure your car or other items are protected with the best protective coating.
If you're looking for superior protection for any vehicle with exceptional hydrophobic properties, a Carfax Verified Warranty, and installed by expert detailers, click the button below to request a quote.

What is a Ceramic Coating?
Over the years, many products have claimed to offer the best protection against premature aging. To protect your vehicle, many owners take their valued possessions to a professional detailer and have them install ceramic coatings for cars.
Nano ceramic coatings are the optimal solution for motorists seeking a straightforward yet lasting makeover. This liquid polymer is composed of non-metallic elements that gently fill every microscopic crevice on your vehicle's surface and make it impenetrable—all at once.
In three years, two varieties of ceramic coating will be offered to consumers: a sprayable option that imitates the luster and water-resistant qualities of genuine ceramics, as well as more quickly achievable alternatives for those seeking fast outcomes.
Nanoceramic coatings, produced with cutting-edge nanotechnology for the professional market, penetrate even the most minute crevices on porous surfaces. This ultra-smooth layer of protection dries or cures within seconds to provide excellent durability.
Ceramic Pro offers a complete solution for all your ceramic coating requirements, ranging from glass surfaces to textiles and leathers contained in the interior of a car or boat. Our Gelcoat and fiberglass finishings are unparalleled in their protection against external factors such as weathering, UV rays, corrosion damage on raw metal surfaces or cars' clear coats.
With Ceramic Pro coatings, you can rest assured that your investment is safe no matter what elements it may come up against.
Take some time to review a few of our most popular Ceramic Pro coating packages posted below. Click the buttons to request a free quote to protect your car's exterior and interior.
CERAMIC PRO NANO-CERAMIC COATING PRODUCTS
CERAMIC PRO AUTOMOTIVE PACKAGES
GOLD PACKAGE
Lifetime Warranty
The Gold Package consists of 4 layers of Ceramic Pro 9H applied to the vehicle's paint, providing permanent protection with a lifetime warranty. An additional layer of protection is added to exposed areas including windshield and wheels.
Includes
4 Layers of 9H
1 Layer of Top Coat
1 Layer of 9H on plastics
1 Layer of Wheel & Caliper on wheel faces
1 Layer of Glass on windshield
SILVER PACKAGE
5 Year Warranty
The Silver Package includes 1 layer of Ceramic Pro 9H applied over the vehicle's paint, providing protection from the elements and a 5 year warranty. An additional protective layer is added to other areas including windshield and wheels.
Includes
1 Layer of 9H
1 Layer of Top Coat
1 Layer of 9H on plastics
1 Layer of Wheel & Caliper on wheel faces
1 Layer of Glass on windshield
BRONZE PACKAGE
2 Year Warranty
The Bronze Package consists of 1 layer of Ceramic Pro Top Coat applied over the vehicle's paint. This coating protects against light scratching and provides a beautiful glossy finish with a 2 year warranty. An additional protective layer is added to other areas including windshield and wheels.
Includes
1 Layer of Top Coat
1 Layer of Top Coat on plastics and wheels
1 Layer of Top Coat on plastics
1 Layer of Glass on windshield

CERAMIC COATING INSTALLATION SERVICES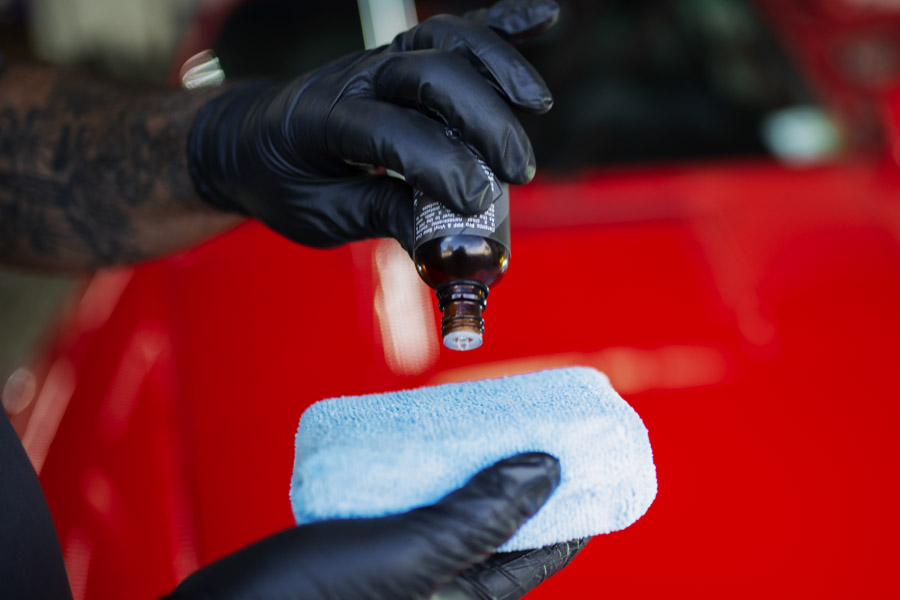 Ceramic Pro Ceramic Coatings
Ceramic Pro Elite Dealer Peoria installs the entire lineup of Ceramic Pro coatings. This includes various coatings packages and formulas created for different surfaces. We have permanent coating solutions for both the exterior and interior of your vehicle.
THE CERAMIC PRO COATINGS ELITE DEALER EXPERIENCE IN PEORIA, ILLINOIS
Ceramic Pro Elite Dealers offer residents of Peoria and surrounding cities and towns in Peoria County a one-stop shop for all their vehicle protection and detailing services. Each Elite Dealer has surpassed Ceramic Pro's high standards for quality assurance, elevated customer service, and expert installation.
To achieve a perfect outcome, paint correction is essential before applying ceramic coating. Our detailers are experts in their field and use an entire process to erase any damage caused by birds, tree sap, bugs or swirl marks from the surface. Investing in our service guarantees you will be left with a stunning finish.
Transform the look of your car today with a Ceramic Pro coating package! With this incredible product, every material–including paint–will be instantly restored to its original condition. Makeover your vehicle and continue to enjoy it for years down the line.
Once your car is adequately prepped, we can apply Ceramic Pro coatings to any inner area of the vehicle – from upholstery and carpets to dashboards, door panels, and infotainment displays. This advanced automobile detailing option surpasses traditional sealants employed on vehicles in terms of effectiveness.
If you've just purchased a new Tesla, Porsche, BMW, or another luxury vehicle, truck, or have watercraft you want to protect for years, click the button below to request a FREE QUOTE from the auto detailing experts at Ceramic Pro Peoria.
ELITE LEVEL CERAMIC COATINGS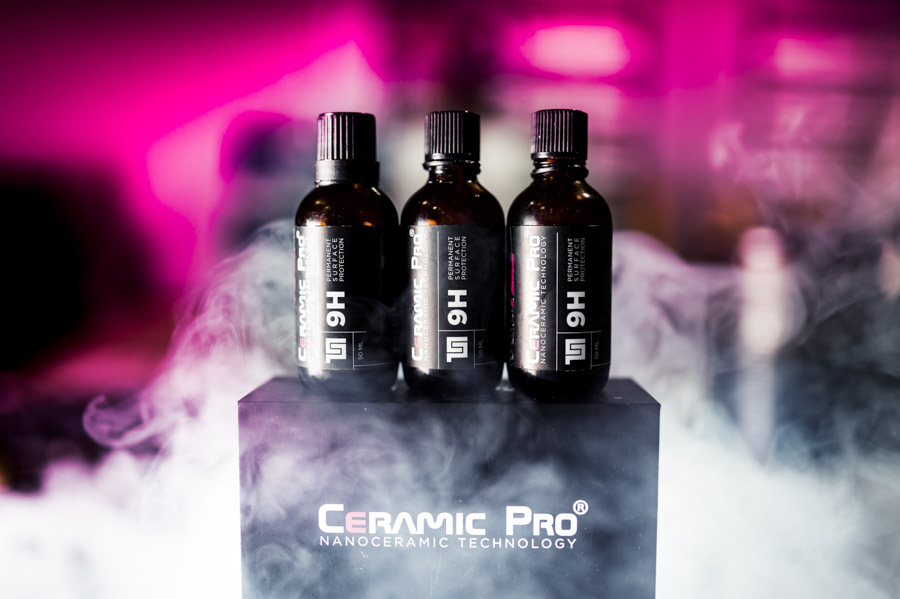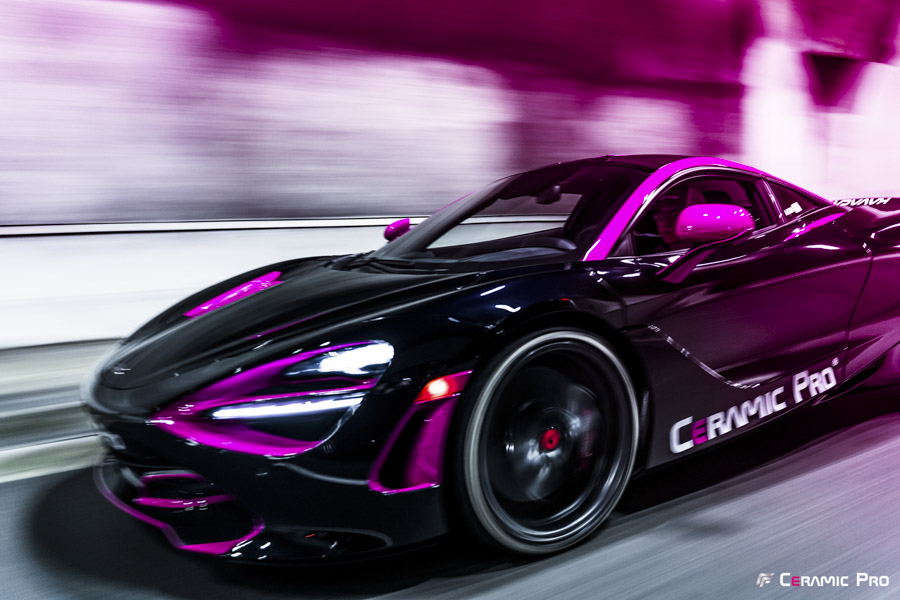 Please complete the form below. A Ceramic Pro Elite Dealer representative will contact you with a free quote for your vehicle.

Ceramic Pro Nano-Ceramic Coatings Installation in Peoria, Illinois
A Ceramic Pro Nano-Ceramic Coating is a permanent protective shield for your vehicle's paint which is substantially harder than your paint's clear coat. The coating separates your paint from exterior contaminants and its hydrophobic qualities repel water helping to keep the surface of your vehicle clean. We offer various Ceramic Pro formulas to coat paint, carbon fiber, textiles, leather, glass, plastics, and more.