CERAMIC PRO COATINGS SYOSSET
Ceramic Pro Coatings Elite Dealer in Syosset, New York.
Ceramic Pro Syosset is an Elite Dealer of professional-grade nano-ceramic coatings. Our flagship Ceramic Pro 9H nano coatings provide a semi-permanent and solid layer of protection that increases the depth, shine, and gloss of the materials it has bonded.
Our Ceramic Pro service shop applies ceramic coatings to cars, trucks, SUVs, boats, watercraft, and industrial equipment. We serve customers living in Brookville, Syosset, Woodbury, New York City, Lloyds Harbor, and other cities in Nassau County. Our experienced team installs nano ceramic coatings for paint, Gelcoat, glass, plastic trim, wheels & calipers, interior leather, textiles, and other materials.
If you're looking for superior protection for any vehicle with exceptional hydrophobic properties, a Carfax Verified Warranty, and installed by expert detailers, click the button below to request a quote.

What is a Ceramic Coating?
There are hundreds of different ceramic coatings for cars. For those new to this type of protection, a ceramic coating is a liquid polymer solution that includes a non-metallic ingredient (ceramic) that hardens on a surface.
There are two kinds of coatings. Spray coatings (those you see on TV being advertised) hold up for a few months, and professional-grade coatings can last a lifetime. The spray-on coatings replicate some of the qualities of a coating, such as being hydrophobic (or making the car easier to clean) – but they don't protect the paint from UV rays and other environmental toxins very well.
Professional grade nanoceramic coatings use nanotechnology so detailers can fill in microscopic porosities within materials. Only experienced detailers install Ceramic Pro's coatings because it must be done under specific conditions.
In other words, they provide an extra layer of protection that helps to make the surface more resistant to staining and damage caused by UV rays, bird droppings, tree sap, pollen, and so on.
Ceramic Pro coatings are unique because we've formulated them for specific surfaces or materials. We have a ceramic coating for glass coating, ceramic coating for interiors (such as leather, plastics, vinyl, and textiles), boats (Gelcoat and fiberglass), automotive clear coats, and raw metal or painted metal surfaces.
Take some time to review a few of our most popular Ceramic Pro 9H coating packages posted below. Click the buttons to request a free quote to protect your car's exterior and interior.
CERAMIC PRO NANO-CERAMIC COATING PRODUCTS
CERAMIC PRO AUTOMOTIVE PACKAGES
GOLD PACKAGE
Lifetime Warranty
The Gold Package consists of 4 layers of Ceramic Pro 9H applied to the vehicle's paint, providing permanent protection with a lifetime warranty. An additional layer of protection is added to exposed areas including windshield and wheels.
Includes
4 Layers of 9H
1 Layer of Top Coat
1 Layer of 9H on plastics
1 Layer of Wheel & Caliper on wheel faces
1 Layer of Glass on windshield
SILVER PACKAGE
5 Year Warranty
The Silver Package includes 1 layer of Ceramic Pro 9H applied over the vehicle's paint, providing protection from the elements and a 5 year warranty. An additional protective layer is added to other areas including windshield and wheels.
Includes
1 Layer of 9H
1 Layer of Top Coat
1 Layer of 9H on plastics
1 Layer of Wheel & Caliper on wheel faces
1 Layer of Glass on windshield
BRONZE PACKAGE
2 Year Warranty
The Bronze Package consists of 1 layer of Ceramic Pro Top Coat applied over the vehicle's paint. This coating protects against light scratching and provides a beautiful glossy finish with a 2 year warranty. An additional protective layer is added to other areas including windshield and wheels.
Includes
1 Layer of Top Coat
1 Layer of Top Coat on plastics and wheels
1 Layer of Top Coat on plastics
1 Layer of Glass on windshield

CERAMIC COATING INSTALLATION SERVICES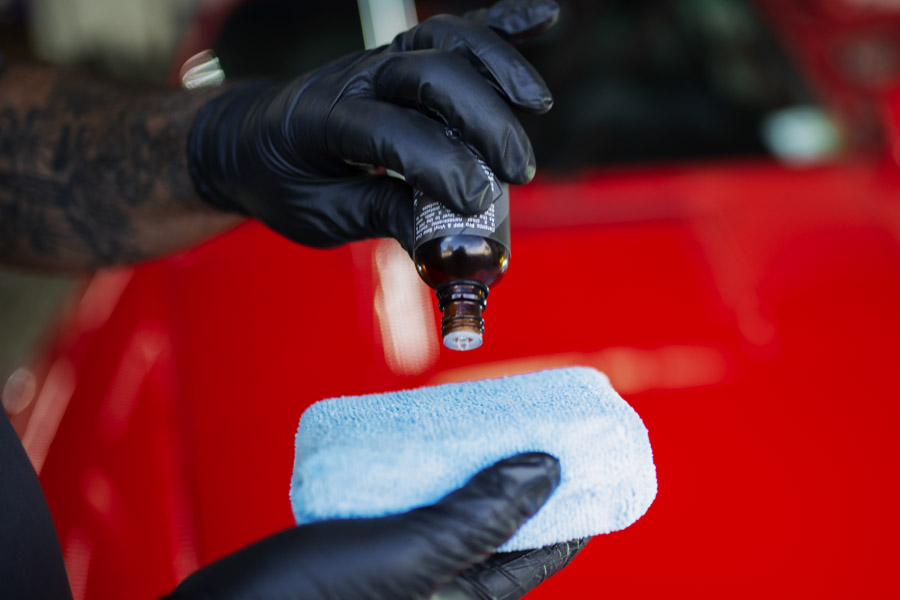 Ceramic Pro Ceramic Coatings
Ceramic Pro Elite Dealer Syosset installs the entire lineup of Ceramic Pro coatings. This includes various coatings packages and formulas created for different surfaces. We have permanent coating solutions for both the exterior and interior of your vehicle.
THE CERAMIC PRO COATINGS ELITE DEALER EXPERIENCE IN SYOSSET, NEW YORK
The Ceramic Pro Elite Dealer program caters to you if you prefer the finer things in life. Ceramic Pro Elite Dealers offer residents of the Syosset a one-stop shop for all their vehicle protection and detailing services. Each Elite Dealer has surpassed Ceramic Pro's elevated standards for quality assurance, elevated customer service, and expert installation.
Ceramic Pro protective solutions offer Syosset business owners and residents an exclusive chance to protect their property with ceramic coating, paint protection film, window tint, and Americana Global aftercare products.
Our Ceramic Pro Elite Dealer in the Syosset can also complete paint correction, removing surface damage. This will prep your vehicle for a Ceramic Pro coating package – which amplifies the condition of the materials, including the vehicle's paint it is applied to.
Our team of experts will first detail your vehicle before we can apply Ceramic Pro coatings to its exterior Clear coats, windows, trim pieces, wheels and headlights. We also offer upholstery protection for seats, carpets, door panels, and dashboard and tech screen coverage. It's a more comprehensive car detailing solution than sealants; Ceramic Pro can be applied to the entire vehicle.
If you've just purchased a new Tesla, Porsche, BMW, or other luxury vehicle, or truck, or have watercraft you want to protect for years, click the button below to request a FREE QUOTE from the auto detailing experts at Ceramic Pro Syosset.
ELITE LEVEL CERAMIC COATINGS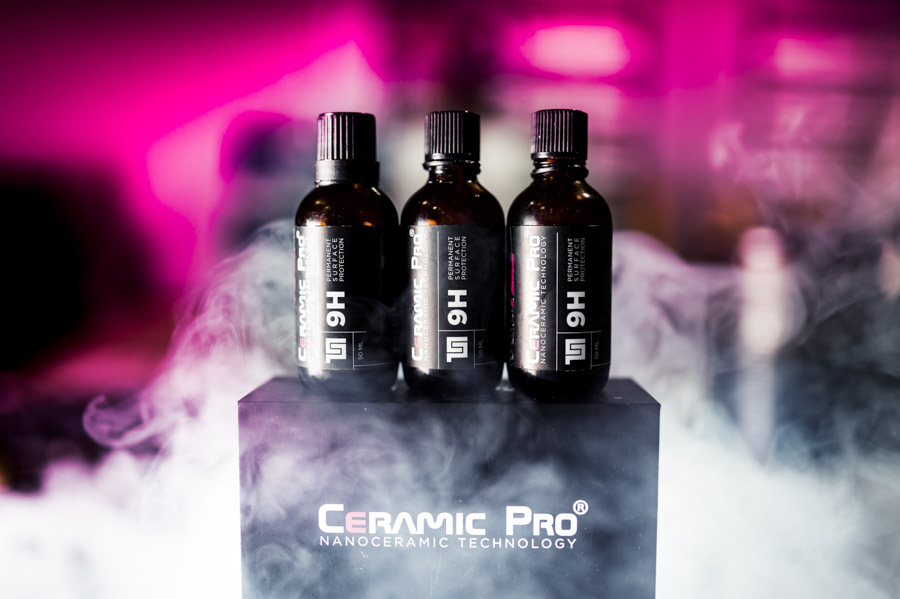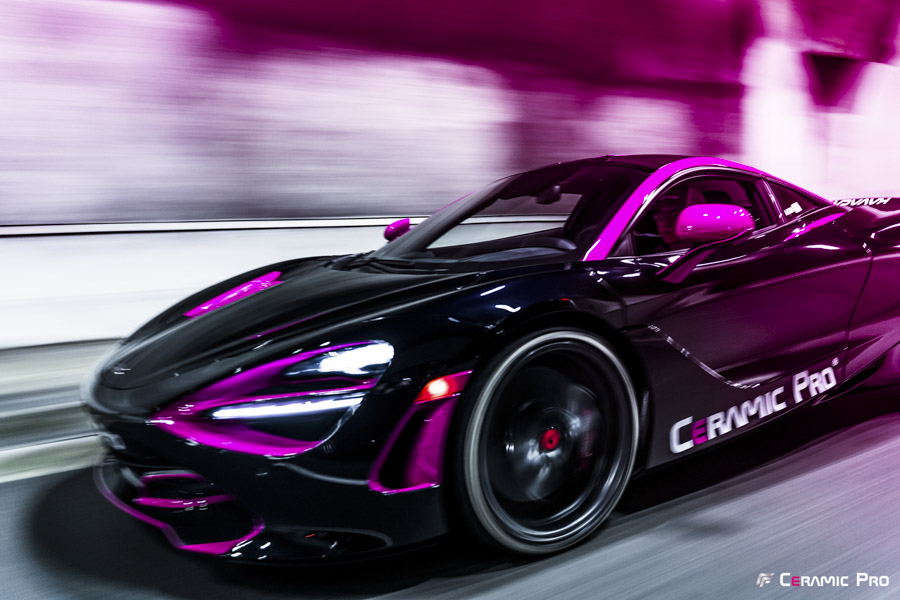 Please complete the form below. A Ceramic Pro Elite Dealer representative will contact you with a free quote for your vehicle.

Ceramic Pro Nano-Ceramic Coatings Installation in Syosset, New York
A Ceramic Pro Nano-Ceramic Coating is a permanent protective shield for your vehicle's paint which is substantially harder than your paint's clear coat. The coating separates your paint from exterior contaminants and its hydrophobic qualities repel water helping to keep the surface of your vehicle clean. We offer various Ceramic Pro formulas to coat paint, carbon fiber, textiles, leather, glass, plastics, and more.