You've just invested in a Ceramic Pro Ultimate Armor Package, or installation of our ceramic coatings or ceramic window tint. So – how do you properly take care of it? And how do you find the best detailing supplies for those protective products?
Finding the right detailing supplies for Ceramic Pro protective solutions has been a problem for our valued customers for several years.
The team at Ceramic Pro Americas recognized this problem and decided to fix it – by partnering with Americana Global to create a system of maintenance and aftercare products that can clean, maintain, and protect your ceramic coating package, paint protection film, or ceramic tint for years.
Americana Global is a leading manufacturer of professional detailing supplies. They have made several products that are formulated to work with our high-quality coatings and films.
Over the past three years, our team of product development specialists has worked closely with several Ceramic Pro Elite Dealers to create a series of unified aftercare and recommended maintenance instructions.
So, as we head into the spring and summer season in 2023, here are the must have detailing supplies for your Ceramic Pro coatings, paint protection film, or ceramic window film.
Before we get started, take some time to watch the Americana Global produced video below, then feel free to learn more in the article below.
Aftercare Products for Ceramic Pro Coatings
Whether you choose an entry-level Ceramic Pro Sport coating, a Gold Package, or Next Generation ION Coatings through our Elite Dealer network, taking care of any ceramic-coated vehicle is simple when you use the right products and washing instructions.
The Recommended Aftercare Products for Ceramic Coatings
Regardless of the type of ceramic coating you have installed on your vehicle, you'll want to use an automotive specific soap or washing agent to clean your vehicle.
For Ceramic Pro coatings, you should use either Americana Global Ceramic Aftercare Soap or Americana Global Rinseless Wash.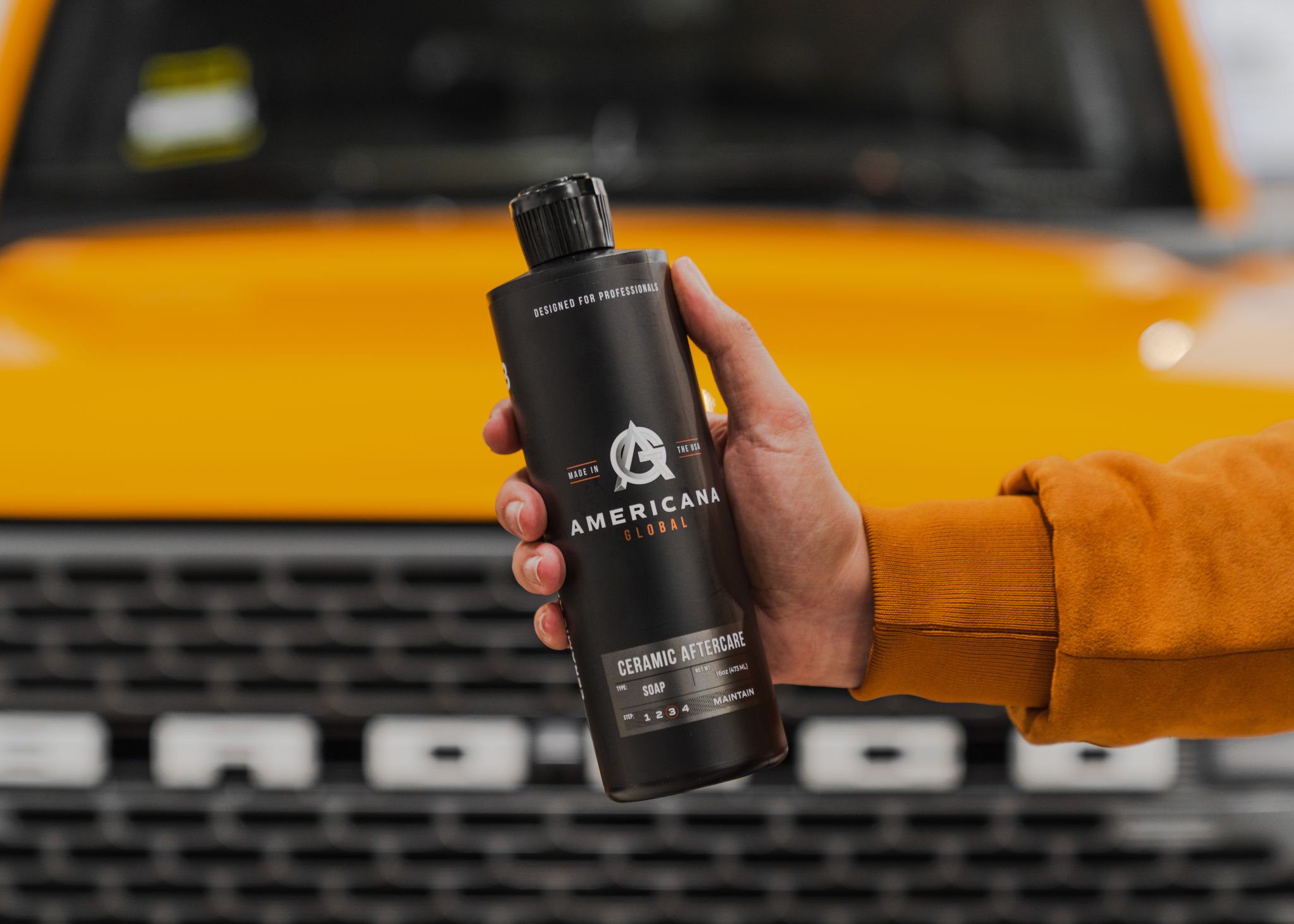 Both products are pH neutral, do not contain wax or petroleum distillates, and are designed to remove stubborn contaminants that might bond on top of the coated surface.
The traditional Ceramic Aftercare Soap is used in a two-bucket wash or a foam cannon / foam gun application. It's highly concentrated so a 16oz bottle is good for about 8 car washes.
The new hybrid Rinseless wash is a revolutionary formula for car owners seeking an environmentally friendly and water-saving washing method.
For detailed instructions on how to use these products correctly, click this link to our Ceramic Coating Aftercare Instructions Page.
Please watch this video below to learn how to use the Rinseless Wash correctly.
Once you've washed and dried your ceramic coated vehicle, consider applying Americana Global Detail Spray.
This product was reformulated in 2021, making it safe to use on both ceramic coated and paint protection film protected vehicles. It can also be used on vinyl wraps, chrome, trim pieces, and more.
It's a very easy product to use and is perfect for those quick detailing tasks in between regular maintenance car washes.
Follow the directions listed on the bottle. But, for a quick recap – this is the procedure for using this product on ALL vehicle surfaces (not recommended for glass).
1) Fold a plush microfiber towel in four sections.
2) Spray a fine mist of Americana Global Detail Spray on the vehicle surface – from a distance of at least 2 feet from the vehicle.
3) Wipe the product on the surface from top to bottom.
4) When you've completely wiped down the panel, flip the microfiber towel to a dry section, and buff off the residue by repeating the wipe-down process.
Aftercare for Paint Protection Film or Ultimate Armor Package
Ceramic Pro's Exclusive Ultimate Armor™ Package is only available through Elite Dealers. However, KAVACA Paint Protection Film installation is offered throughout the Ceramic Pro Authorized Installer network.
When you picked up your vehicle, the certified installer provided you with aftercare instructions and warranty information. If not, here is a refresher.
Our KAVACA Paint Protection Film and Ceramic Pro coatings are a powerful combination, shielding your vehicle from debris and environmental harm. However, if the wrong aftercare products or techniques are used for cleaning them, it can compromise their integrity.
If not cared for properly, this can result in discoloration of the PPF, a decrease in hydrophobic qualities on ceramic coated surfaces and premature deterioration of the PPF material.
This aftercare and maintenance guide by Ceramic Pro Americas makes it easy to properly clean and care for your Ultimate Armor Package or any paint protection film installation package.
Recommended Washing Process for PPF
For optimal results, Ceramic Pro Americas strongly suggest washing your Ultimate Armor or KAVACA Paint Protection Film safeguarded vehicle every two weeks. You have the option to use one of two methods when cleaning your car.
Washing Process #1 – Rinseless Wash
This is the same Rinseless Wash product that we recommended for our Ceramic Coating packages. It is a highly concentrated formulation that is used to wash a vehicle without using a hose. This washing method is best used on lightly soiled surfaces – with dust, and light debris stuck to the surface.
*NOTE – If you use this washing method, ALWAYS use separate cleaning supplies to wash tires and wheels from those you use on other vehicle surfaces.
DO NOT use the same wash media for cleaning on exterior surfaces that are protected with PPF or Ceramic Coatings – as this will cause scratching due to embedded brake dust.
Washing Process #2 – Two Bucket Soap and Water
The "two bucket" technique is a popular washing method known to many. Americana Global Vinyl & PPF Shampoo has been crafted with Ceramic Pro in mind, particularly for paint protection film and vinyl surfaces.
Additionally, the soap can also be used on vehicles that have undergone ceramic coating treatments, making it an ideal product for all your cleaning needs!
This makes it the perfect automotive shampoo for the Ultimate Armor Package.
*NOTE: Like the above method, do not wash any vehicle that is warm to the touch. If washing outdoors in sunlight, make sure to wash the vehicle in the early AM or late afternoon hours.
Final Step – Apply Americana Global Detail Spray
Once the entire vehicle is cleaned and dry, use Americana Detail Spray as a final wipe down.
For detailed instructions on how to properly use these products on PPF, click this link to the aftercare instructions page.
Aftercare Products for KAVACA Window Film
Whether you opted for Ceramic IR or Carbon CS window tint, for it to provide a lifetime of protection, we need you to follow some simple curing and aftercare techniques.
The curing process for KAVACA Carbon X, Carbon CS, Ceramic IR, or Ultimate IR is one month after the installation of the film. However, you can clean your windows 7-full days after the job has been completed.
Ceramic Pro also partnered with Americana Global to formulate a window tint specific Ceramic Glass Cleaner that we recommend for ALL cleaning tasks (on the inside and outside of windows).
For proper cleaning of KAVACA Window Film, you should use the following supplies.
*You can purchase these products directly at https://www.CeramicPro.com/Shop
Other Americana Global Detailing Products to Have Handy
The products we've listed above are the ones that Ceramic Pro Americas installers recommend for taking care of the products they sell. But there are some other Americana Global products that are great for routine cleaning and extra protection of certain surfaces.
Wheel & Tire Cleaner
Introducing Americana Global Wheel & Tire Cleaner – the ultimate in wheel and tire detailing solutions.
This 2-in-1 cleaner is perfect for streamlining your process, with a non-acid formula that cuts through brake dust, grime, corrosion, dirt and even caked on old tire dressings. Now you can achieve an effortlessly clean finish without breaking a sweat.
This product is safe on all tires, painted or powder-coated, clear coated, chrome, factory, and ceramic coated wheels.
Tire & Trim Conditioner
Revolutionize the way you protect and beautify your tires with Americana Global Tire & Trim Conditioner, an eco-friendly solution that will have your vehicle's tires gleaming with a dazzling shine.
This water-based formulation has been engineered to produce a long-lasting finish with a deep luster and smooth shine.
The unique color-matching technology allows the product to darken weather-damaged tires and trim, helping to restore plastic and rubber materials to a like-new condition.
It is an easy to apply, quick-drying, and non-sling tire and trim conditioner.
All Purpose Cleaner
Americana Global's Ready to Use APC (all-purpose cleaner) is a multi-purpose degreasing agent that has been diluted for safe application on different substrates.
It simplifies the task of removing stubborn dirt, oil, grease, and grime. It can be used to clean wheels, engine bays, undercarriages, and suspension parts but is gentle enough to treat delicate surfaces – like interiors, plastics, exterior trim, glass, tires, untreated wheels, and even vinyl.
Wrapping it Up
While Ceramic Pro protection solutions are the best in the industry, to keep them in optimal condition, you'll have to invest some TLC to care for the vehicle.
Americana Global products are professional-grade, but formulated for ease-of-use, made from eco-friendly and sustainable raw materials, and 100% sourced in the United States.
If you're looking for the best detailing supplies for Ceramic Pro coatings, and films – click the button below to browse our online store.