Some people thrive on overthinking decisions. It is important to analyze the pros and cons of making any major purchase, especially when it comes to protecting your daily driver. However, when it comes to weighing a professional-grade nano ceramic coat vs. a questionable DIY ceramic coating kit, it all breaks down to one simple question – which one do  you trust?
The intent of a ceramic coated car is to provide a long-lasting, protective shield, to block UV rays, light chemicals, road grime, animal waste, and other contaminants from damaging the substrate or surface that is coated.
Although many DIY ceramic coatings are capable of being applied to different materials, these all-in-one solutions simply don't hold up the same. Some will last for about a year – while others might push the protection to 24 months.
With that said, here are six reasons why a professional coating like Ceramic Pro 9H is far superior to the best DIY ceramic coatings.
#1 – More Layers with Professional Coatings
One of the reasons why Ceramic Pro 9H is only applied in a controlled environment and by trained experts is the complexity of installation. The margin of error for applying and removing the coating is minimal with a pro-coating. DIY coatings have a larger window, but there is a drawback – you can't apply multiple layers.
Well – technically you can apply several layers of a DIY ceramic coatings, and remove it with a microfiber towel, but it's not going to bond or accomplish anything except waste your money. Let me explain.
A professional-grade nano paint coating can stack on top of each layer due to the professionally engineered carrier solvents – kind of like wax does. The drawback is that the installation and removal process is tedious, requires special training and is easy to mess up. The DIY coating removes most of the carrier solvents to make it easier for the average car enthusiast to apply.
But without this important ingredient, nano ceramic coating products can't build depth. As such, you can apply multiple coats of DIY coatings – but it's a waste of your time, money, and resources. It would be better to apply a few coats of a paint sealant. Ceramic Pro 9H ceramic coating on the other hand can build depth, which is why the layered packages can hold up for more than 5 years, protects the car paint against swirl marks, bird droppings, produces a hydrophobic coating, and is a true paint protection solution.
#2 – More SiO2 Is Not Always Better
When you read most blogs on DIY ceramic coating websites, they'll actively promote the amazing SiO2 percentage in their formulations – claiming that the higher percentage of silicon dioxide leads to a stronger – more durable coating. That's not true. In fact, SiO2 is the ingredient that helps provide a flat and smooth surface – or creates a super hydrophobic effect.
Titanium Dioxide or TiO2 is the main ceramic ingredient which impacts the hardness – or longevity. However, applying multiple coats of a coating with less SiO2 progressively adds depth and a flatter surface – producing better protection and super hydrophobic properties.
There are other ceramic coatings that contain no SiO2 or TiO2 that replicate an amazing slippery surface. So, if you only want to dazzle your friends with the car's ability to repel water a few days after applying the coating – any coating will 'work' for that result. However, if you want true professional ceramic coating protection – don't be hung up on SiO2 percentages.
#3 – Prep Work is Tricky and Time Consuming
There are a lot of positive reviews on some of the higher-grade DIY nano coatings. But, have you ever read them in detail? Most average car owner speak highly about how shiny the paint job on the vehicle looks after applying the DIY coating. However, keep scrolling down the review, and you'll see a lot of complaints about the paint correction or prep work required.
Now let's be clear – a car ceramic coating, regardless of the formulation, does not COVER UP scratches, blemishes, or minor damage on the car's paintwork. Due to this fact, it's vital to repair any imperfections prior to application. This is done via the prep work.
Ceramic car coating prep work consists of a decontamination car wash, clay bar treatment, paint correction (if any imperfections are present) and a final IPA (isopropyl alcohol) surface prep spray panel wipe. Depending on the condition of your vehicle's paint surface, the prep work can take a manner of hours or days.
The same prep is recommended for paint protection film. Applying carnauba wax or ceramic wax also requires some level of prep.
When you opt for the DIY ceramic coating, you're typically stuck with all the prep work on the car's exterior that comes with it. However, you can choose to have a professional auto salon help with the prep if needed, but at that point, it makes sense to spend a few extra dollars for a genuine ceramic paint protection option.
#4 – A Unique Formulation for Different Materials
Ask any car detailer and they'll tell you that there is no such thing as an all-in-one product for your car. DIY coatings are advertised as an all-in-one solution for protecting clear coats, glass, wheels, and vinyl. When you apply most of them to glass, it's common to get streaking, or to grab more frequently – leading to inconsistent operation during rainstorms. If you apply to a clear coat on car's paint, the DIY coating tends to work better.
The point is – with nano ceramic coatings, you can't have an effective multiple surface protectant that is high quality. Different materials have larger or smaller porous surfaces, which means the coating protecting it needs to be uniquely formulated to penetrate those tiny imperfections, to bond and seal the surface, and harden correctly.
Ceramic Pro 9H has a ceramic coating for car's paint, one for windows, a formula for vinyl and PPF, one for leather, and another for textiles. We also have coatings for industrial, marine, and commercial applications. We custom formulate every coating we offer – as opposed to contacting a chemical company and filling our bottles with stock formulas.
#5 – Consistent Results and No Mistakes
When you buy a DIY coating, you are taking a calculated risk that you won't screw up the application. To be blunt, a large percentage of the paint correction services our professional detailers offer is fixing high and low spots from DIY ceramic coating installation jobs gone wrong. The customer will contact our pros and tell them they followed the directions, and for whatever reasons – the coating wouldn't buff off the surface.
It's not our job to blame anyone or assign a reason for these errors. But the truth is – they happen all the time. When you have a professional coating applied, by an experienced detailer in a controlled environment, mistakes like this simply don't happen. And if they do – you'll never receive your car back with those errors. It'll be fixed and perfected prior to you picking up your car.
#6 – Warranty vs No Warranty
Our car ceramic coating – Ceramic Pro 9H is sold in three affordable packages. The bronze package is our entry-level coating, that protects your vehicle for up to two years – guaranteed. The silver package provides five years of warrantied protection. The gold package equals a lifetime of ceramic coating protection. There isn't a single DIY coating with a WARRANTY.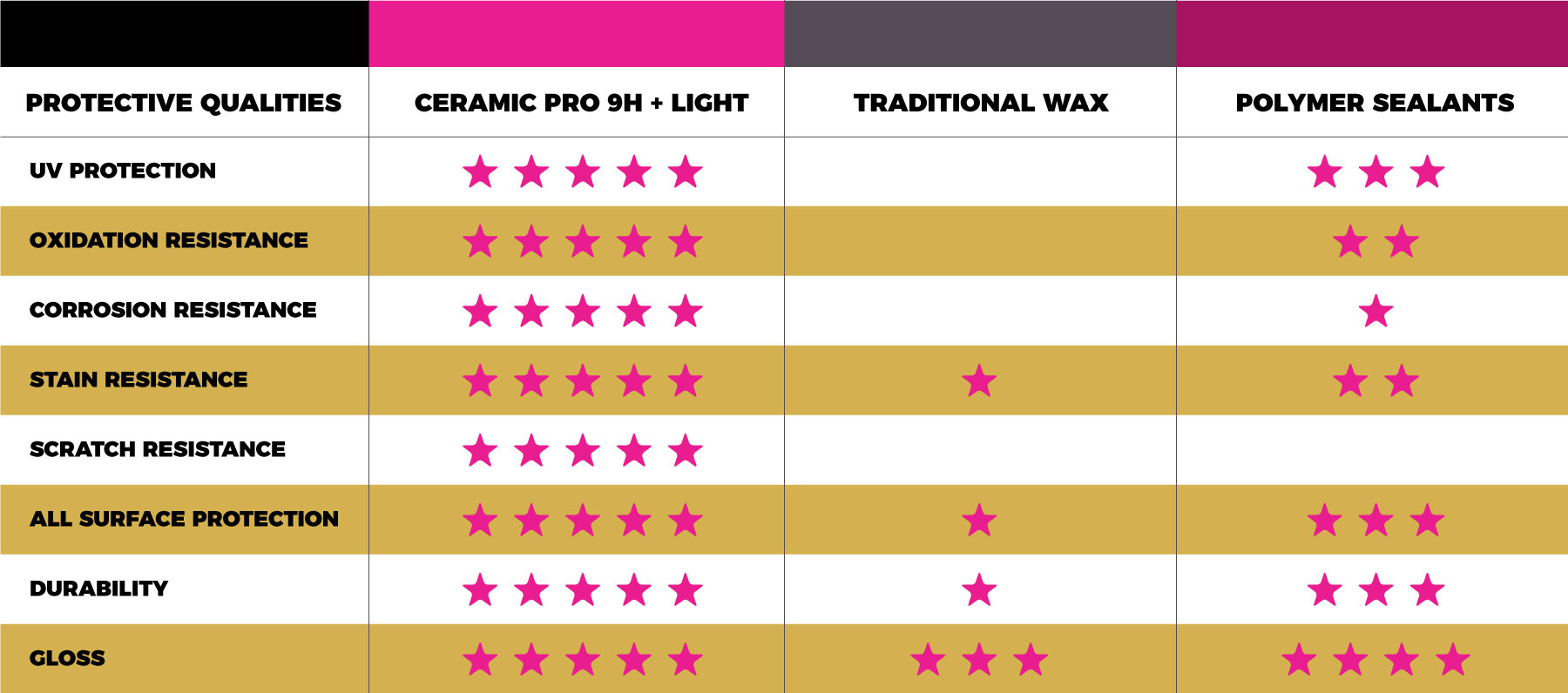 There are some that are backed by money back guarantees for 'expected longevity' – but no warranty to fix or reapply the coating for you. These DIY ceramic kits usually cost the manufacturer about $5.00 – and sold to you at prices eclipsing $50 in most cases. Many of most popular DIY coatings are repackaged and rebranded cheap knock-offs.
Plus – the variables involved with DIY coatings and their installation, make it impossible for any company to offer a warranty. It's really that simple.
What's the Verdict on Pro vs DIY Coatings?
Simply put – if you want a true ceramic coating, the professional grade path is the one best traveled. Auto salons that offer Ceramic Pro 9H can customize a package that fits your needs, desires, budget, and expectations. Plus, each one will be backed by a warranty – in writing, documented on your Carfax vehicle history report, and inspected once per year by our expert installers.
With DIY coatings – you're taking a calculated risk, applying a reengineered formula – that is simply not an effective protectant. Sure, it might make the paint shiny, might have water bead up and slip off the surface, but corn oil does the same thing.
If you'd like to explore your options with a professional-grade nano ceramic coating, click the button below to request a free estimate.