CERAMIC PRO COATINGS COLUMBIA
Ceramic Pro Coatings Elite Dealer in Columbia, South Carolina.
What does pollen, tree sap, bird droppings, and bug splatters have in common? Well, if you've lived in Columbia, South Carolina long enough, you've likely spent hours trying to remove this sticky stuff from your car's paint, windows, and headlights. While natural carnauba wax and synthetic paint sealants can help ease this problem, technology in the form of professional ceramic coatings in Columbia lasts longer, is more hydrophobic, and amplifies the finish of materials it protects.
For several years, business and homeowners in Cayce, Dentsville, Forest Acres, Irmo, Seven Oaks, West Columbia, Batesburg-Leesville, Camden, and other cities near Columbia has trusted Ceramic Pro 9H nano coatings to protect their cars, trucks, SUVs, boats, off-road vehicles, and industrial equipment. Our revolutionary nanotechnology penetrates microscopic imperfections found in all porous materials, providing a semi-permanent and exceptionally durable layer of protection that increases the shine, depth, and gloss of the materials it has bonded.
Our Ceramic Pro Columbia location is an exclusive Elite Dealer that offers nano coatings for paint, gelcoat, glass, plastic trim, wheels & calipers, interior leather, textiles, and other materials. If you're looking for superior protection for any vehicle with exceptional hydrophobic properties, a Carfax Verified Warranty, and installed by expert detailers, click the button below to request a quote.

What is a Ceramic Coating?
Over the years there have been many products that have claimed to offer the best protection against premature aging. In case you're not aware, a vehicle's clear coat, dashboard, seats, and other materials will eventually fade or oxidate due to exposure to UV rays emitted by the sun. In order to protect your vehicle, many owners take their valued possessions to a professional detailer and have them install ceramic coatings for cars.
A nano ceramic coating is a liquid polymer solution that includes a non-metallic ingredient (ceramic) that hardens on a surface. There are two types of ceramic coatings available to consumers in 2022. The most effective are installed by experts in a controlled environment and provide an electrical or covalent bond that fuses to the surface.
The other type of coating is a DIY option that is often sprayed on a vehicle. These are the mechanical bonded coatings (like the spray on products you see advertised on TV and last a few months). Professional-grade nano ceramic coatings utilize nanotechnology to penetrate microscopic imperfections found in any porous material. In a matter of seconds, the coating initially flashes or cures – creating an exceptionally flat and durable layer of protection.
Unlike other professional-grade coatings, Ceramic Pro's are unique – as we offer special formulated ceramic coating for glass coating, ceramic coating for interior (such as leather, plastics, vinyl, and textiles), for boats (gelcoat and fiberglass), automotive clear coats, and raw metal or painted surfaces.
Take some time to review a few of our most popular Ceramic Pro 9H coating packages posted below. Click the buttons to request a free quote to protect your car's exterior and interior.
CERAMIC PRO NANO-CERAMIC COATING PRODUCTS
CERAMIC PRO AUTOMOTIVE PACKAGES
GOLD PACKAGE
Lifetime Warranty
The Gold Package consists of 4 layers of Ceramic Pro 9H applied to the vehicle's paint, providing permanent protection with a lifetime warranty. An additional layer of protection is added to exposed areas including windshield and wheels.
Includes
4 Layers of 9H
1 Layer of Top Coat
1 Layer of 9H on plastics
1 Layer of Wheel & Caliper on wheel faces
1 Layer of Glass on windshield
SILVER PACKAGE
5 Year Warranty
The Silver Package includes 1 layer of Ceramic Pro 9H applied over the vehicle's paint, providing protection from the elements and a 5 year warranty. An additional protective layer is added to other areas including windshield and wheels.
Includes
1 Layer of 9H
1 Layer of Top Coat
1 Layer of 9H on plastics
1 Layer of Wheel & Caliper on wheel faces
1 Layer of Glass on windshield
BRONZE PACKAGE
2 Year Warranty
The Bronze Package consists of 1 layer of Ceramic Pro Top Coat applied over the vehicle's paint. This coating protects against light scratching and provides a beautiful glossy finish with a 2 year warranty. An additional protective layer is added to other areas including windshield and wheels.
Includes
1 Layer of Top Coat
1 Layer of Top Coat on plastics and wheels
1 Layer of Top Coat on plastics
1 Layer of Glass on windshield

CERAMIC COATING INSTALLATION SERVICES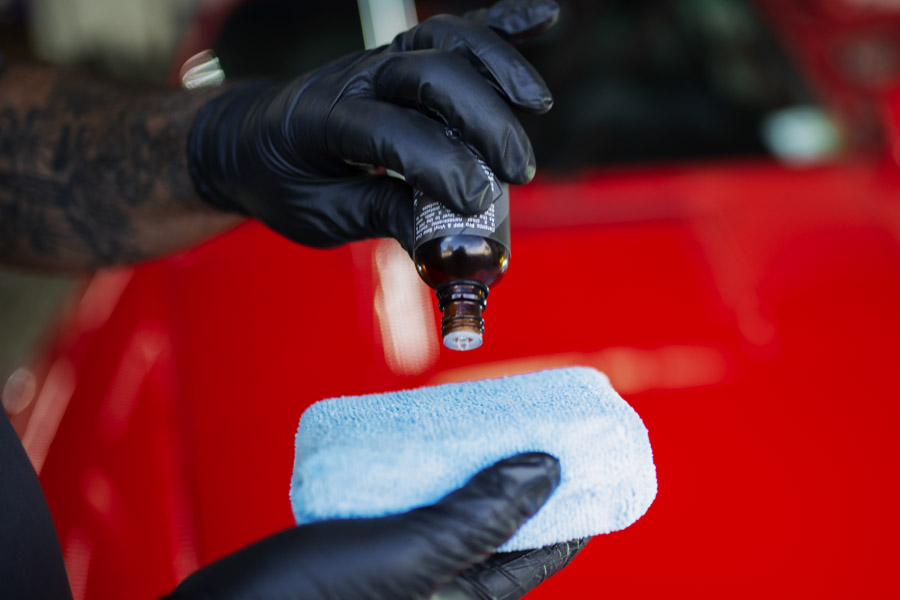 Ceramic Pro Ceramic Coatings
Ceramic Pro Elite Dealer Columbia installs the entire lineup of Ceramic Pro coatings. This includes various coatings packages and formulas created for different surfaces. We have permanent coating solutions for both the exterior and interior of your vehicle.
THE CERAMIC PRO COATINGS ELITE DEALER EXPERIENCE IN COLUMBIA, SOUTH CAROLINA
Living in the South Carolina state capital of Columbia introduces excessive humidity and extreme heat – which can amplify UV rays produced by the sun that leads to clear coating failure and damaging interior materials. Exposure to these elements can also lead to oxidation, corrosion, the development of rust, and eventually destroying an asset.
Ceramic Pro Elite Dealers offer residents of Columbia, Forest Acres, Irmo, Seven Oaks, West Columbia, Batesburg-Leesville, and Camden a one-stop-shop for all their vehicle protective and detailing services. Each Elite Dealer has surpassed Ceramic Pro's elevated standards for quality assurance, elevated customer service, and expert installation.
Our Elite Dealers install Ceramic Pro protective solutions including ceramic coatings, paint protection film, window tint, and Americana Global aftercare products – formulated specifically for Ceramic Pro's line-up.
Prior to installing a ceramic coating, we strongly recommend paint correction. This process is completed by our team of expert detailers, as they use a proprietary technique that removes surface damage caused by bird droppings, tree sap, bug splatters, and swirl marks. This will prep your vehicle for a Ceramic Pro coating package – which amplifies the condition of the materials including the vehicle's paint it is applied to.
Once the vehicle is prepped correctly, we can install Ceramic Pro coatings on your seats, carpets, dashboard, door panels, and infotainment technology screens. It's a car detailing solution that is much better than sealants and can be installed on the entire vehicle.
If you've just purchased a new Tesla, Porsche, BMW, or other luxury vehicle, truck, or have watercraft you want to protect for years, click the button below to request a FREE QUOTE from the auto detailing experts at Ceramic Pro Columbia.
ELITE LEVEL CERAMIC COATINGS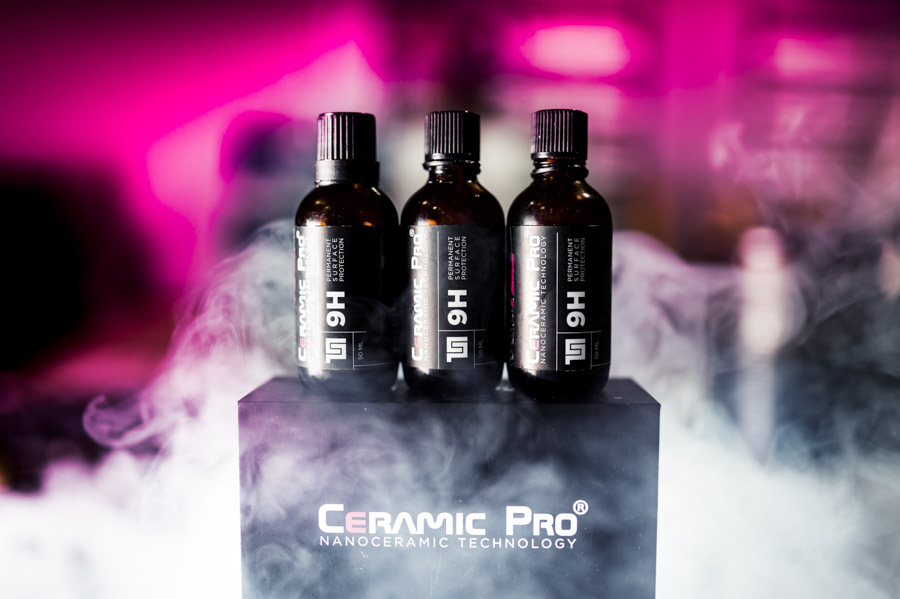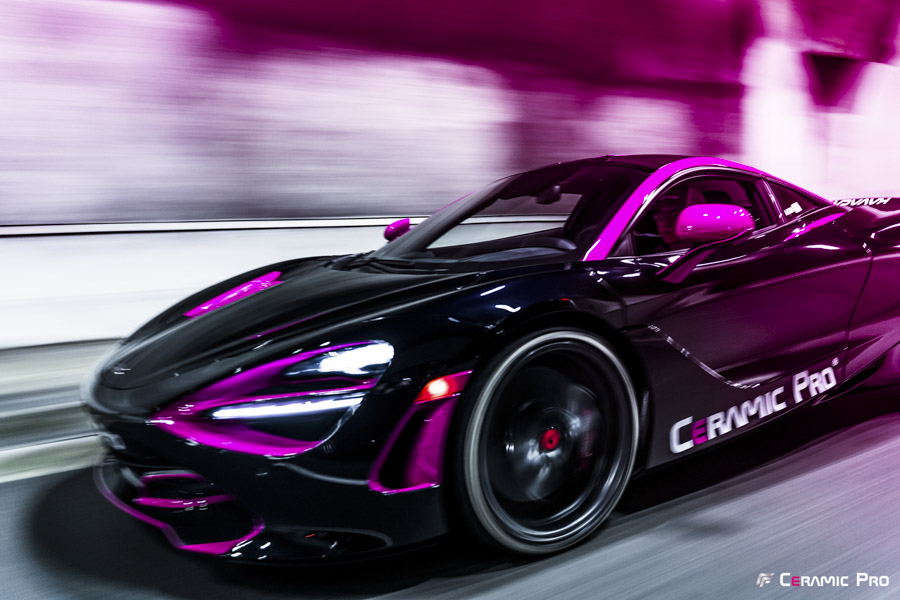 Please complete the form below. A Ceramic Pro Elite Dealer representative will contact you with a free quote for your vehicle.

Ceramic Pro Nano-Ceramic Coatings Installation in Columbia, South Carolina
A Ceramic Pro Nano-Ceramic Coating is a permanent protective shield for your vehicle's paint which is substantially harder than your paint's clear coat. The coating separates your paint from exterior contaminants and its hydrophobic qualities repel water helping to keep the surface of your vehicle clean. We offer various Ceramic Pro formulas to coat paint, carbon fiber, textiles, leather, glass, plastics, and more.