KAVACA CLEAR BRA PAINT PROTECTION FILM HOLLISTER
KAVACA Paint Protection Film Elite Dealer in Hollister, California
Making the proactive decision to install paint protection film in Hollister is a smart way to avoid most of these issues and keep your valuable SUV, truck, or car in mint condition. And if you live in San Benito County, Ceramic Pro Elite Hollister is the location you can trust for premium PPF installation.
Residents of Hollister, Gilroy, Salinas, San Juan Bautista, Dunneville, and other cities in San Benito County can trust Ceramic Pro Elite Hollister for all your paint protection film and automotive restyling services.
Our Hollister auto detailing shop is proud that our corporate office gave us a lot of training on how to use Ceramic Pro PPF and Clear Bra products. If you're looking for a finish that will have everyone turning their heads, with superior protection, we offer the solution. We take pride in offering only top-of-the-line KAVACA Ceramic Coated Paint Protection Film or KAVACA Matte PPF with full front coverage – guaranteeing your ride a showstopping look.
If you'd like to learn more about paint protection film installation in Hollister, California, click the button below to request a FREE QUOTE.
Request a Free Quote

What is Paint Protection Film in Hollister California?
Paint protection film is an invisible and lightweight material composed of urethane that can be applied to the exterior parts of your car, commercial equipment, or watercraft. Because it has a layer that doesn't stand out, you don't have to worry about loud patterns ruining the look of your car.
This superior product is composed of several layers – including an adhesive backing, a protective sheeting membrane, and a topcoat for extra durability against abrasion and corrosion.
Residents of Hollister rely on a knowledgeable paint protection film installer to securely apply the protective film layer onto all visible areas, such as bumpers, headlights, fog lights, and hoods. Unfortunately, due to safety regulations, this isn't allowed on the windows of any street-legal cars currently in operation.
KAVACA Ceramic Paint Protection Film is a high-gloss paint protection film with an even higher degree of durability and resistance than other products on the market. If you're a truck driver who wants to keep the front of your Dodge Ram safe from rock chips and other harsh elements, then Ceramic Pro 9H coatings are perfect for you. Not only do they protect components on your car that may be exposed, but they also last longer than traditional waxes or sealants.
Paint protection films are very helpful for traditional cars, but if you drive an electric car, you need them even more. To ensure that your investment retains its stellar look over time, PPF installation is essential. Not only will this guard against any potential dings or scratches to the paint job, but it'll keep your car looking as good as new for years to come.
If you're searching for the greatest protection, then look no further than our Ultimate Armor package. Blending ceramic coating and PPF together to create a shield against any form of damage, It is only available through Ceramic Pro Elite Dealers. Plus, when installed by Ceramic Pro Elite Hollister – it comes with an unparalleled, Carfax verified warranty.
Ceramic Pro Elite Hollister provides two PPF styles to choose from: our innovative KAVACA ceramic-coated PPF or the ultra-stylistic Matte PPF. We also offer ceramic window tinting services – so you can protect your entire vehicle in one stop. Some of the top features of our paint protection film options are written below. Visit us today at Ceramic Pro Hollister!
KAVACA PAINT PROTECTION FILM PRODUCTS
KAVACA Matte Finish Paint Protection Film
KAVACA Matte Finish Paint Protection Film is the film to choose if you are looking for that modern satin paint look without the drawbacks that come with matte paint. KAVACA Matte Finish PPF protects the original finish of your vehicle and allows you to go for that matte look even if your original paint is gloss. The film can of course also be used over matte paint. Matte Finish PPF heals from minor scratches with applied heat, such as regular sunlight.
Learn More

KAVACA Ceramic Coated Paint Protection Film
KAVACA Ceramic-Coated Paint Protection Film is the film of choice if you would like the benefits of coating your film with Ceramic Pro without having to go through that extra cost and installation time. The film is coated with Ceramic Pro PPF and Vinyl formula during production. This means that as soon as the film is on your car you can benefit from all the hydrophobic qualities of a Ceramic Pro coating in a single installation step.
Learn More

PAINT PROTECTION FILM INSTALLATION SERVICES

KAVACA Paint Protection Films
Ceramic Pro Elite Dealer Hollister installs KAVACA Advanced Window Films. KAVACA Window Films offer supreme IR filtering at any tint percentage level. The available lineup is vast, including many tint percentages, filtering levels and tint tones.
THE CERAMIC PRO ELITE DEALER EXPERIENCE – EXPERT PPF INSTALLATION IN HOLLISTER CALIFORNIA
Ceramic Pro America made the Elite Dealer program just for Hollister drivers who want their cars to get the best care and service possible. At our one-of-a-kind, high-end store, these elite users can get premium protection maintenance and detailing services that can't be found anywhere else.
Here at our Ceramic Pro Elite dealership in Hollister, California, we offer comprehensive ceramic coatings and PPF options as well as window film services. We also provide maintenance for your ceramic coating needs plus protective paint finish (PPF) and window tinting solutions. That's why you can trust us to take care of all your automotive detailing needs!
If you have questions about Hollister's installation of paint protection film on your vehicle or would like to request a free quote, click the button below. We look forward to serving you.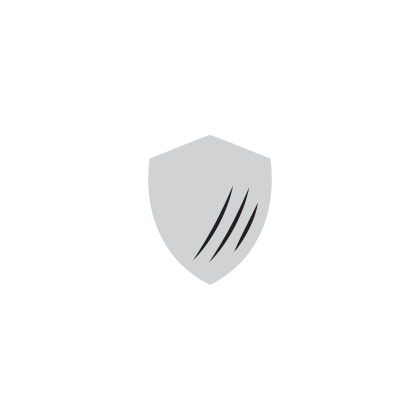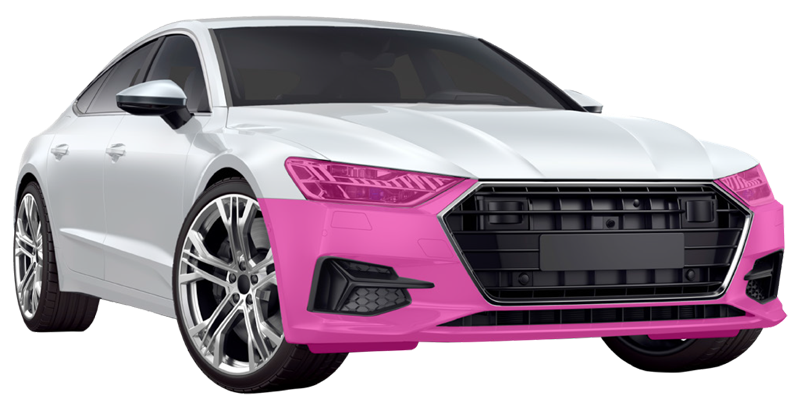 Full Front Bumper
Headlights
Fog lights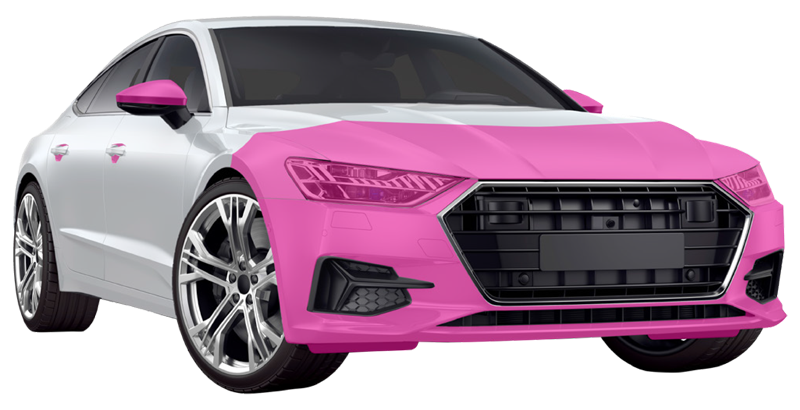 Full Front Bumper
Headlights
1/3 of the Hood and Fenders
Front Side Mirrors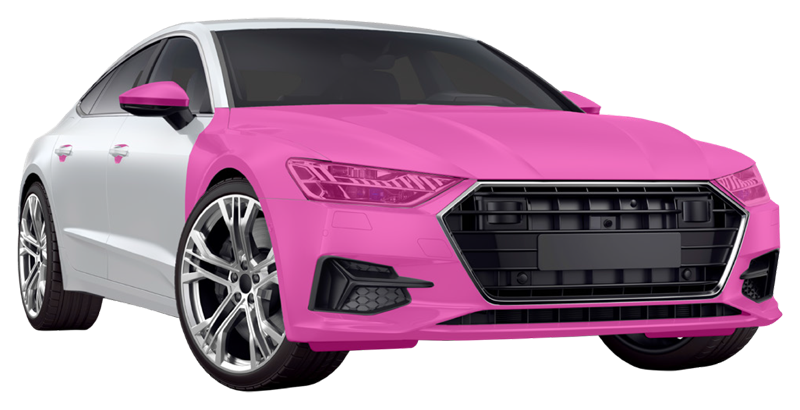 Full Front Bumper
Full Hood
Full fenders
Front Side Mirrors
Headlights
Fog lights
Door Cups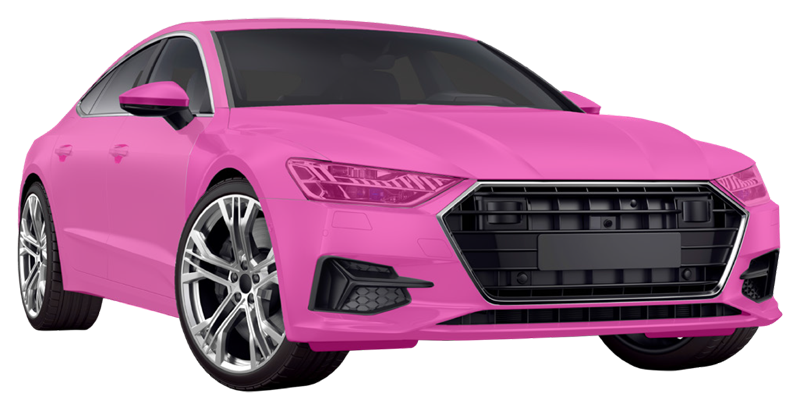 Entire car – all painted surfaces of the vehicle and headlights.
*Available package options vary by installer. Custom coverage options also available.
ELITE LEVEL PPF INSTALLATION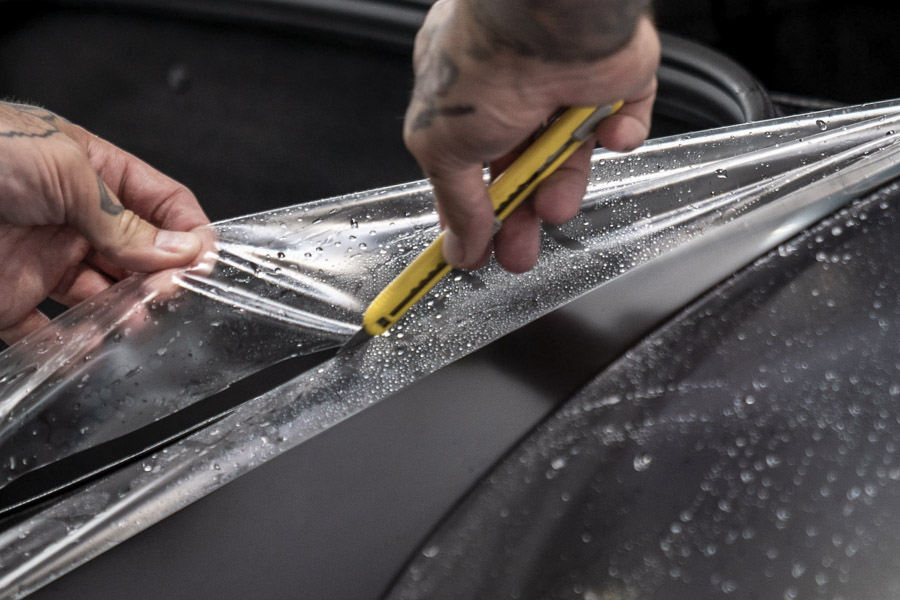 Ceramic Pro Paint Protection Film in Hollister California
The most advanced self-healing PPF is KAVACA Paint Protection Film, produced by Ceramic Pro. We have many different kinds, including our revolutionary ceramic-coated Paint Protection Film, which combines nanoceramic technology with the protective qualities of PPF.
We also offer a Matte Finish PPF to transform your gloss paint job to a satin finish. Whether you're looking for a clear bra installation or a complete vehicle PPF installation in Hollister, our Ceramic Pro Elite Dealer can take care of you.
Please complete the form below. A Ceramic Pro Elite Dealer representative will contact you with a free quote for your vehicle.

KAVACA Regenerating Paint Protection Film in Hollister, California.
Ceramic Pro KAVACA Regenerating Paint Protection Film is the most advanced self-healing PPF available today. We offer various types, including Instant-Healing clear bra film which requires no heat to self-heal. Additionally, we also carry Matte Finish PPF and Ceramic-Coated PPF.