Tesla owners take a lot of pride in the aesthetic appeal of their Model X, Model 3, Model Y, or Model S. But they are also conscious about comfort, conserving energy, and protecting their car interior and skin from damaging UV rays. This desire is what stimulates many to question whether installing ceramic window film on Tesla models will resolve these issues.
In short – the answer is a definitive YES. 
But this is just the tip of the automotive iceberg. There are several benefits to installing ceramic window tint on a Tesla. In today's CeramicPro.com blog, we'll answer a few questions as to why Tesla benefits from ceramic window tint. 
We'll explain the difference between tinted windows (or privacy glass) and aftermarket window film. Finally, we'll introduce KAVACA Ceramic IR window film to you – which blocks up to 97% of heat-producing infrared rays. 
Why is Window Film Important for Teslas?
Tesla owners typically have car window tinting installed for the same reasons as other manufacturer drivers. A quality window film blocks out 99% of damaging UV rays, which is the main cause of skin cancer, fading interior parts, and eventually – premature aging of vehicle components. However, the premium ceramic window film blocks IR or infrared radiation. This is what creates heat. 
The main difference between most manufacturers and Tesla's is the huge centrally located window that sits atop each model in the line-up. While the primary objective of this window is to improve on-road visibility, a glaring issue is the amount of direct heat that flows into the cabin. For Tesla owners, the additional heat not only reduces the comfort but causes the auto-air conditioning system to activate while the vehicle is parked. 
The AC activates on your Tesla Model X, Model 3, Model Y, and Model S as a safety system – to ensure the battery (installed under the floorboards of most EVs) does not overheat. This happens while the vehicle sits outside or is exposed to exterior heat sources. 
Does AC Drain an Electric Car Battery While Parked Outside?
Here is a pop quiz – have you ever heard the term, Vampire Drain? If not – it's a growing issue that owners of Tesla and other EVs live with daily. It's essentially the phantom draining of the EV battery while the vehicle sits outside. While several automated systems draw power, the biggest issue is the automatic air conditioning safety and comfort system. This is known as a vampire or phantom battery drain. 
So how much battery can be drained while the Tesla sits outside? Well, depending on how hot it is outside, or more importantly – how much heat is being amplified by IR streaming through that huge roof window – the battery can drain up to 8 miles of range per hour. Here is a practical example for you to ponder. 
Let's say you work in Los Angeles – specifically the East Valley – where it can approach 100 degrees during the summer and early fall season. You commute to work – and live in Temecula, or roughly a 60-mile drive (each way). When you arrive to work in your Tesla Model Y, you have 100 miles of range remaining. You're not planning on driving anywhere during lunch, so that should be more than enough battery to get you home – to plugin for the next day…right?
You park the car at 8:00 am – and head to your car at 5:00 pm. When you turn on the car to drive home, you now have 50 miles of range due to the "vampire drain". This represents a major issue. Not only do you have to find a charging station to make it home, but that's more time you'll waste. 
The simple act of installing an IR blocking window film can help keep the vehicle significantly cooler – which will reduce the amount of time needed to activate the AC system. The result, is a cooler cabin, without a significant battery drain. 
Do Tesla's Need Special Window Tint?
In short, except for the roof glass, Tesla utilizes conventional glass on all side windows that do not require special window tint. Tesla window tinting is somewhat of a luxury – like paint protection film (clear bra) or nano-ceramic coatings. However, beyond installing the film on the front windshield (which is not recognized by US states as being legal – yet), being proactive by upgrading to a solar heat rejecting window tint film is arguably the smartest upgrade a Tesla owner can make.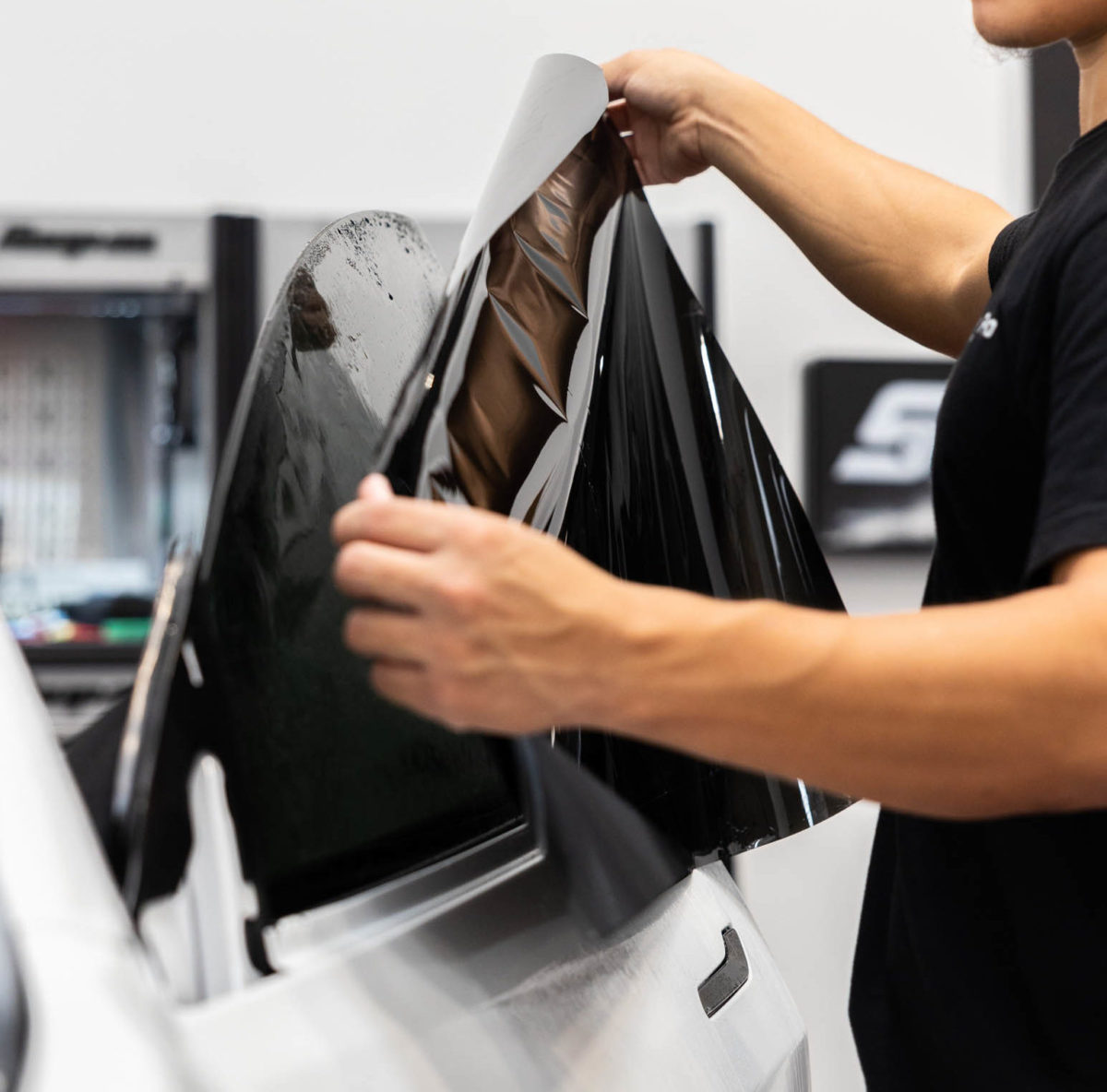 As mentioned above, many Tesla vehicles utilize a massive glass roof that brings incredible flair to the overall design. In addition to looking great, this glass roof can lend to a feeling of overall spaciousness and airiness in the cabin of the vehicle that owners simply can't get enough of. 
Tesla engineered this unique roof to block harmful UV rays from entering the vehicle with a thin strip of UV protectant that's sandwiched in between the double glass that comprises the roof. This UV protectant not only blocks damaging UV rays but also helps mitigate heat from entering into the cabin of Tesla vehicles. 
But it doesn't block a lot of the heat-producing IR. The side and rear windows on Tesla Model 3, Model Y, and Model S are built with privacy glass – which is simply a pigment that is poured into the glass during manufacturing to darken the window. It offers virtually no protection against IR. 
Window film, especially high-quality Ceramic IR window film not only blocks damaging UV rays but also heat-producing infrared. The simple act of having ceramic window film installed on each window can reduce the cabin temperature up to 25 degrees. This not only keeps you comfortable but reduces the need for the automatic air conditioning to be active while the Tesla is parked outside. 
And that results in reduced battery draining – and extended range. 
Does Ceramic Window Tint Make a Difference?
Yes, state-of-the-art ceramic tint like KAVACA IR goes well beyond just looking fantastic and provide additional protection from harmful UVA and UVB rays, as well as infrared heat. There are other options – including crystalline films – which can provide some heat reduction, but they often block cell phone signals. 
You can also consider metallic tints – that can provide up to 75% of heat rejection – but you'll get better ROI by upgrading to the lifetime warranty protection offered by Ceramic Pro's IR film. 
Cutting edge KAVACA IR ceramic window film blocks up to 99% of cancer-causing UVA and UVB rays from entering into the cabin of your Tesla. These harmful rays can cause serious health problems if you're exposed to them over a long period and KAVACA IR helps eliminate UVA and UVB exposure for both driver and passengers. Minding harmful UVA or UVB rays is especially imperative for people who have children. 
However, for Tesla owners and those who drive another luxury EVs, the reduction of infrared heat from entering your vehicle is a huge benefit. We all know there's nothing worse than hopping into a vehicle on a scorching hot day – especially leather seats. And while KAVACA IR can't prevent all heat from entering your Tesla, it can make a big difference and allow you to use less battery energy to cool the interior off. 
KAVACA Ceramic IR has been tested and proven to block up to 97% of heat-producing IR from the Sun. This results in more comfort, superior protection, and reduced potential of vampire drain. You can legally install this film on the roof window, side windows, and rear window. 
Invest in Quality Ceramic IR Window Film for Tesla Models
There's no doubt about it, owning a Tesla is a statement. 
Stunning design and equally impressive performance speak to a unique type of owner who's looking to not only stand out but thoroughly enjoys driving one of the fastest accelerating brands of a vehicle in the world. Comprehensive protection means not relying on Tesla's slick glass roof for UV protection and going the extra mile with coverage on the side windows. 
KAVACA IR ceramic window film uses the latest technology to achieve an appearance that matches the sublime design of Tesla products and offers comprehensive coverage from both harmful UVA / UVB rays and infrared heat. Tint installation is a specialty that takes years of training, and on-hands experience. Ceramic Pro has assembled the best auto spas who offer tinting services, many of whom have made the switch to KAVACA window films. 
If you're looking for the easiest way to extend battery range, improve interior comfort, and protect you and your car from UV damage, invest in Ceramic Pro KAVACA IR Film. If you'd like to receive a free estimate for having one of our certified window tint installers apply this incredible film to your Tesla, click the button below.